by Amy Martin
Winter SolstiCelebration 2012: The theme was Transformation, perfect for releasing a 20-year tradition to become a new generation of Winter Solstice events. It was a transformation for me as well, stepping away from the gregarious presentations of Earth Rhythms events I was known for to focus my identity on the far more introspective path of my heart: writing.
Golden decor by Rebecca Winn of Whimsical Gardens transformed the Cathedral of Hope chancel into a timeless space. With the ceremonial altar candles and Community Candle lit, a blessed sanctuary space awaited the night. Photo by Alan Dudley.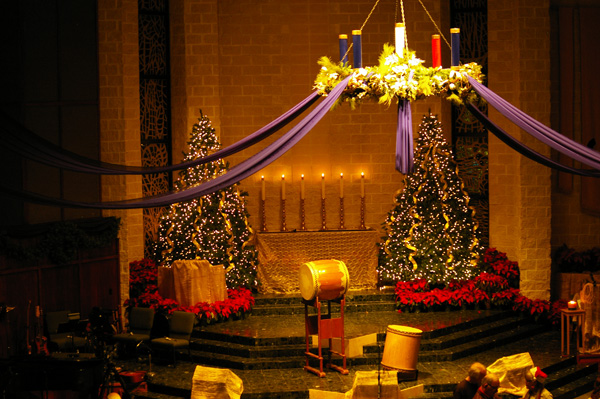 After a photo and narration retrospective of Winter SolstiCelebration's 20 year journey, complete with rather funny timing miscues, Japanese taiko group KOBUSHI blessed the sacred space. Kent Multer and Martin McCall reprised the group especially for the night as a goodbye treat for their fans. Photo by Kris Hundt.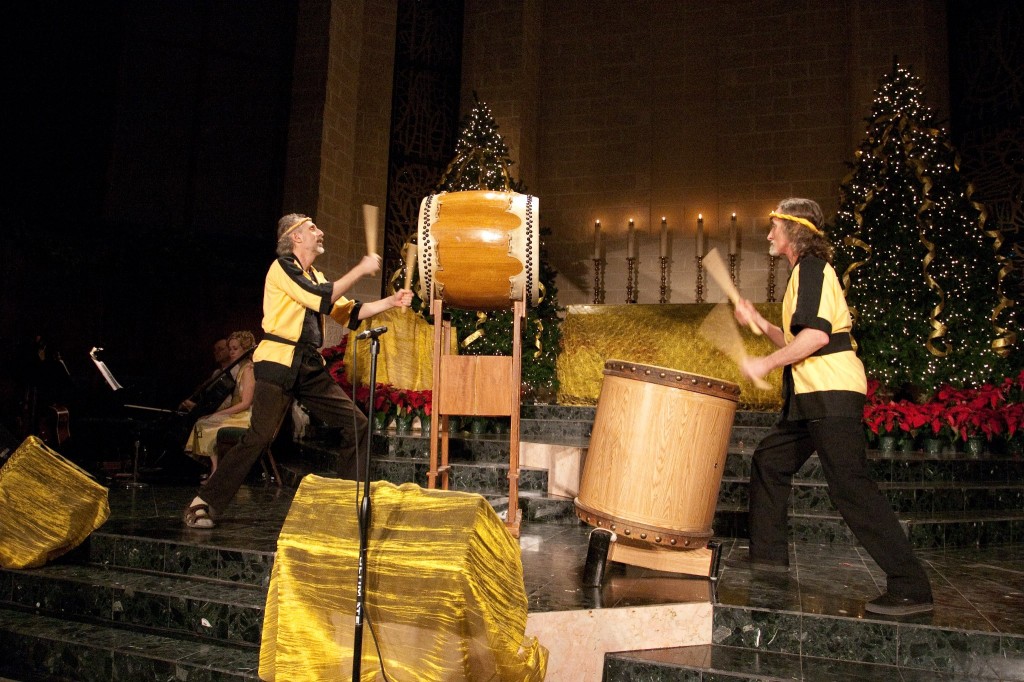 In the profound and remarkably moving Cornerstones of Community ceremony, representatives of the many faith paths that found a home at the event gathered on stage. Photo by Kris Hundt.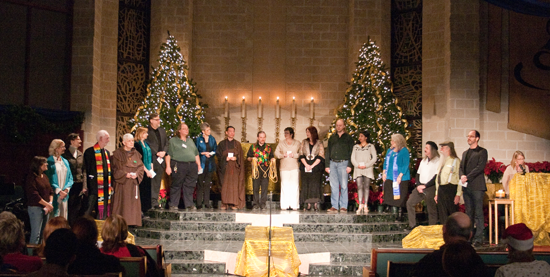 During the ceremony, they held a golden cord symbolizing the shared concepts and values and recited this invocation:
The Earth that sustains us

The seasons that shape us

The relationships that make us whole.

A passion for peace

A thirst for justice

Embodied with divine creative flow.

We weave the golden cord that unites us

From ancient faiths to faiths yet to be.

We celebrate what is true to us as humans

And the dream we share becomes reality.
It is my hope that this unique coalition can stay together as the event moves into other forms.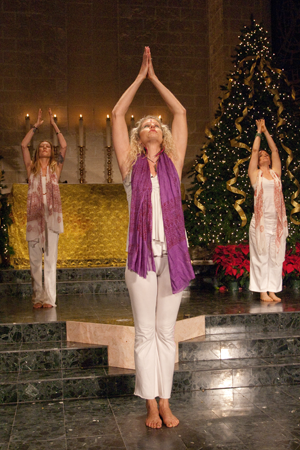 Embodied spirituality has been a hallmark of WS ever since our first year at First Unitarian. Poet Lazette Jackson looked out at the attendees and said "You folks are still in traffic. Let's do some deep breathing and be here now." Flash forward 15 years to Lisa Ware's sophisticated blend of breathing, yoga and chakra toning, musically aided by Shanti Webb, that took the audience deep into experience. So far we've come! Photos by Kris Hundt.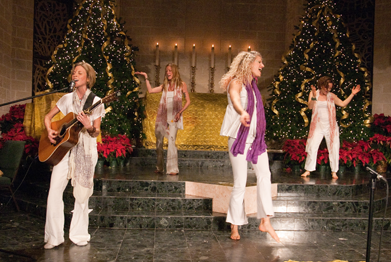 Attendees responded, feeling themselves to be a conduit between the infinite cosmos and the magnetic Earth beneath their feet.Photo by Kris Hundt.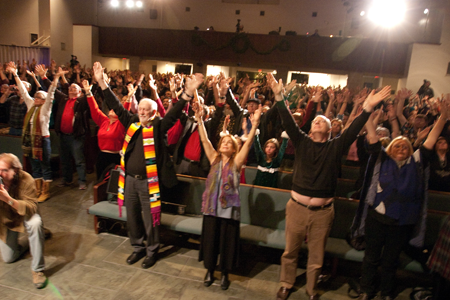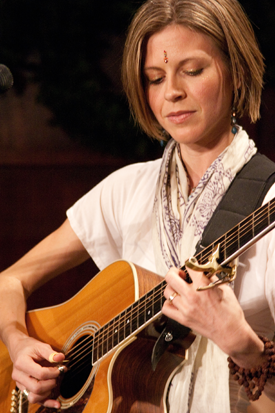 That embodied bliss led into Shanti Webb's deep transformative call-and-response chant to Shiva. Except there was no call-and-response to it. The 950+ attendees wanted to sing full-throated the entire time. The chandelier was shaking by the end. Photo by Kris Hundt.
Rahim Quazi's song "Almost Home" explored how relationships sustain us through all life's changes. Though Winter SolstiCelebration may end, the community continues. Photo by Bob Dahdaleh.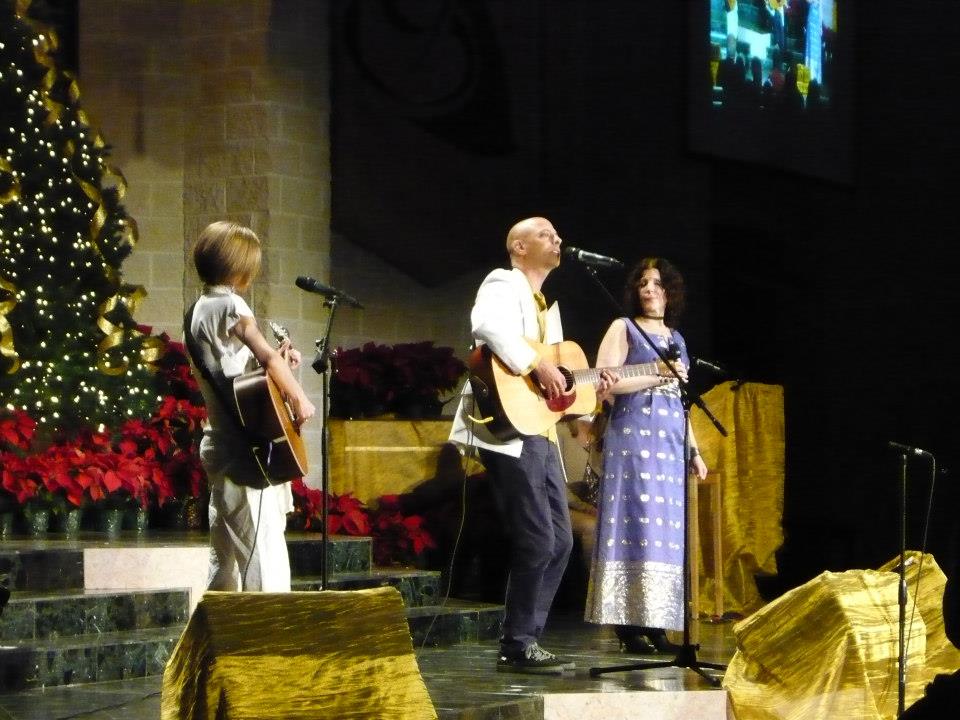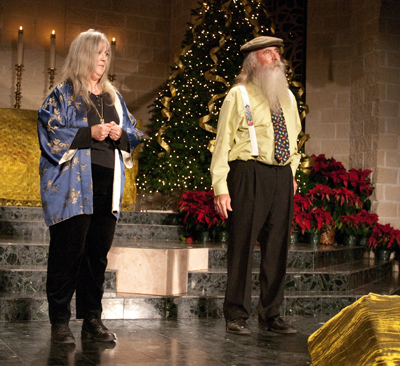 In our event, each song, each dance, each act, is a metaphor: spiritual wisdom masquerading as entertainment.  Gene and Peggy Helmick-Richardson described with their first tale how storytelling is dressed up wisdom, pondered how the night of the soul could be defined with the next, and concluded with the legend of Halcyon Days.  They've performed with us 13 times, most of our existence, and tied with trumpter Freddie Jones. Photo by Kris Hundt.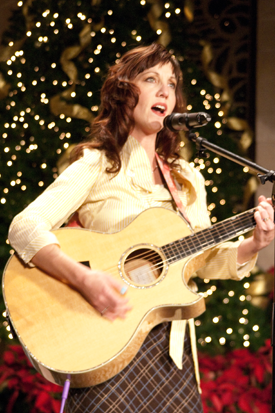 The storytellers' wisdom led easily into the Kerri Arista's song "Everything." Her direct, honest and tender lyrics explored the many moments over the passage of a day that help us realize that we have everything. Photo by Kris Hundt.
We moved deeper into the night, closer to Winter Solstice, and each step of the way golden emissary of light Charlene Widzinski extinguished another ceremonial candle, preparing us or the coming darkness. Photo by Kris Hundt.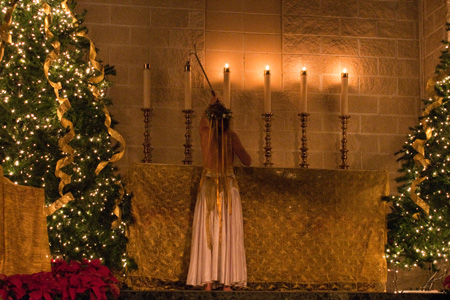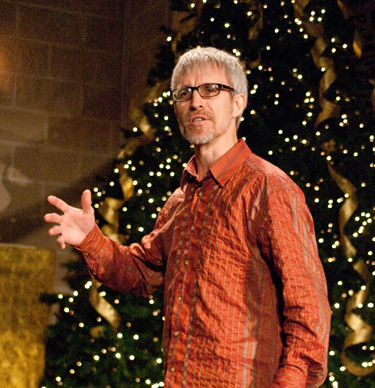 A part of John McMurphy's original Winter Solstice crew, Jeffrey Davis visited us from upstate New York where he now lives. His poetry that captured the small moments of wonder and connection that weave our lives, a perfect segue into the Naming Ritual, where we honored loved ones lost in the prior year by saying their names. Photo by Kris Hundt.
As we evoked our beloveds, the names of those lost in mass shootings in 2012 scrolled on the video screens.
We are a circle, within a circle,

With no beginning and never ending.

Earth my body, water my blood,

Air my breath and fire my spirit.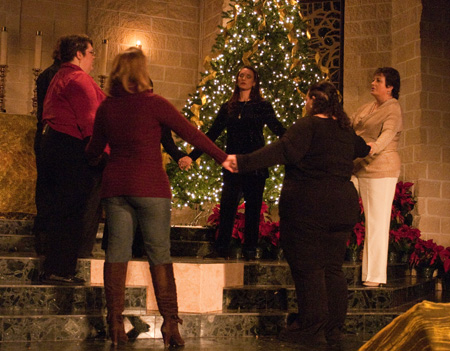 The Women's New Moon Circle sang these words often in the early years of Winter SolstiCelebration. A celebration of the circle and invocation of the elements has been a part of every one.
To bring us full circle, Circle of the Wildwood (including members of the Women's New Moon Circle), performed those chants. Photo by Kris Hundt.
Connected, grounded and blessed, it was time for The Turn: a musical segue into our 3-minute meditation in silent darkness, one minute for each day of the Winter Solstice passage, followed by a musical emergence into light. Sojourn journeyed us there, led by Cornell Kinderknecht on flute, with David Rosenblad on guitar, Sarah Reinke on cello, and (unseen) Martin McCall on percussion. Photo by Kris Hundt.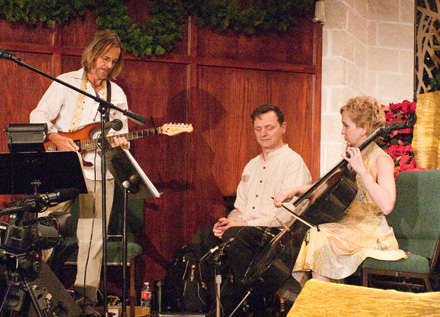 Monica Lecrone first defined dance for The Turn and came from Arizona to dance it for us one last time. To Sojourn's pulsing "Pure Potential," she embodied the submission to darkness and mystic vision, until suddenly she extinguished the Community Candle and the dark was upon us. Photos by Kris Hundt.
Then a bell rang and Monica emerged from her symbolic slumber, first restoring light to the Community Candle and passing the flame to Jeffrey Davis who woke the rest of us with his words from "Today is the Day"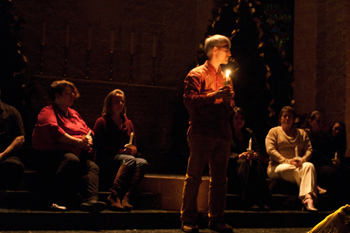 This is the day
perhaps
you awoke
to the pulse
of your own startling voice.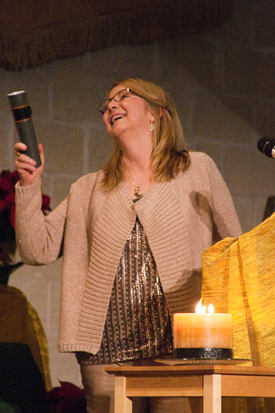 Together with our flashlights and internal flames, together we began to bring back the light, participating in the process of regeneration that infuses the cycle of every day and seasonal year, and the cycle of every life on the planet. Photos by Kris Hundt.
But it was not enough to embrace a new day in our selves. Fate compelled us to beckon a shift for all mankind, to envision a new world of ascended consciousness, to bring in our future and merge with it.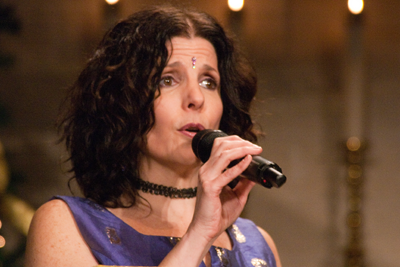 The crystalline voice of Lainey Bernstein, joined by Andrew Tinker (unseen), offered the graceful beauty of the operatic "Flower Duet," its evocative French lyrics and complex melodies hinting of majesty to come. Photo by Kris Hundt.
(By the way, Tinker learned the daunting piece in three days, stepping in for the ailing Robin Hackett, singing in French while playing the piano – mind blowing.)
Monica welcomed the epic avatars of ascended consciousness (Marie Martin and Russ Sharek of Circus Freaks) as they entered the sanctuary. Photo by Kris Hundt.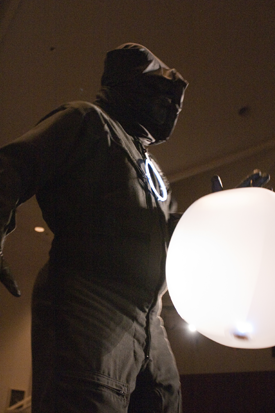 They bore with them the Pearl of Wisdom, reminding humanity that wisdom was always within, but sourced from something greater. Photo by Kris Hundt.
The avatars gifted us with the Pearl of Wisdom, raising it for all to view and receive, before merging with dance representatives of humanity and showing us the way toward a future of brilliance and peace. Photo by Kris Hundt.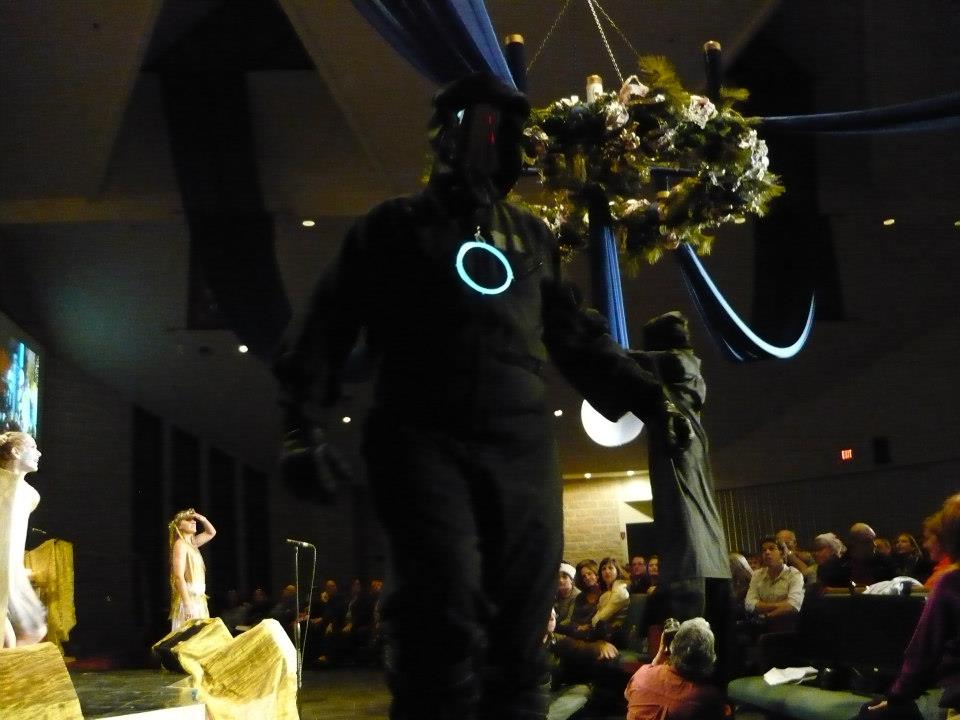 Awesome!
Sure in our future path and our connections with each other,  we went on to celebrate the new world, alive with breath. Freddie Jones' jazz trumpet riffs wove with Jeffrey Davis' poetry to create that "unique to this night and never seen again" moment that is the legacy of Winter SolstiCelebration. Photos by Kris Hundt.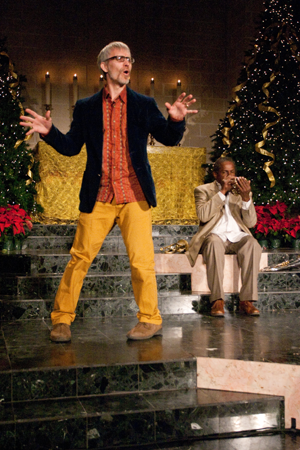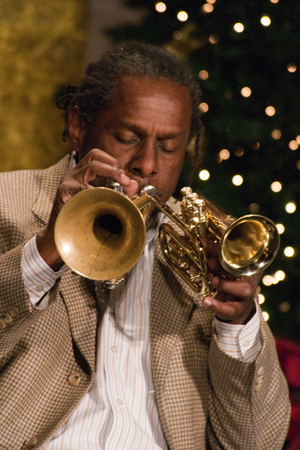 Laurie Willis, who was newly pregnant at last year's event, danced for us the story of her son, Cort, from his passionate creation…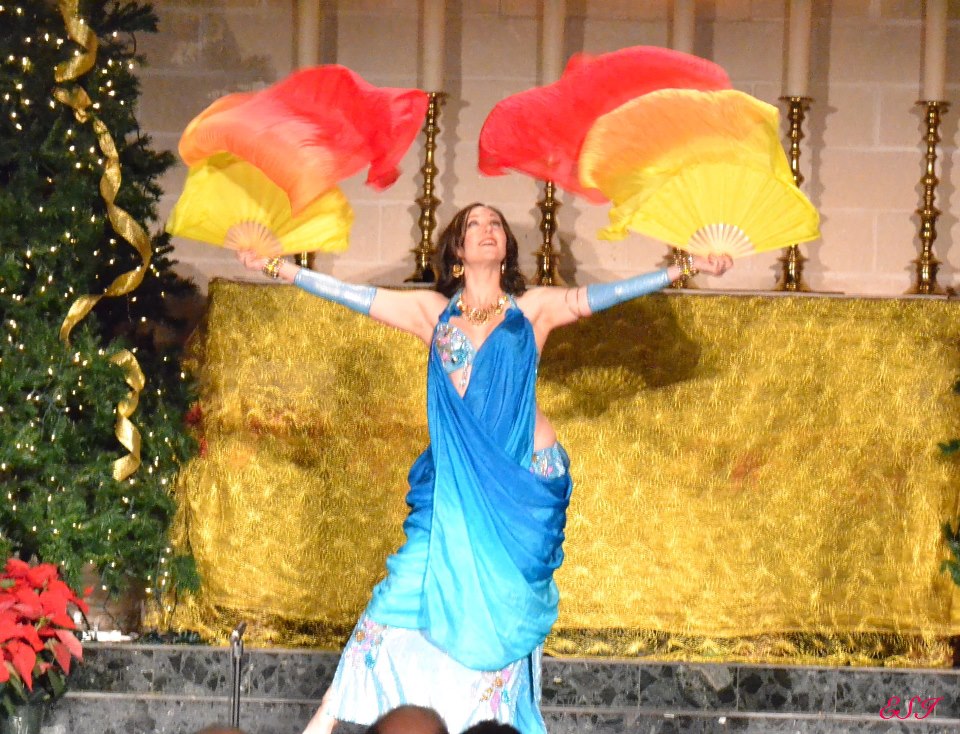 … to the triumph of his birth, the story an omen for new life from Winter's SolstiCelebration's end. Photos by Easy Street Images.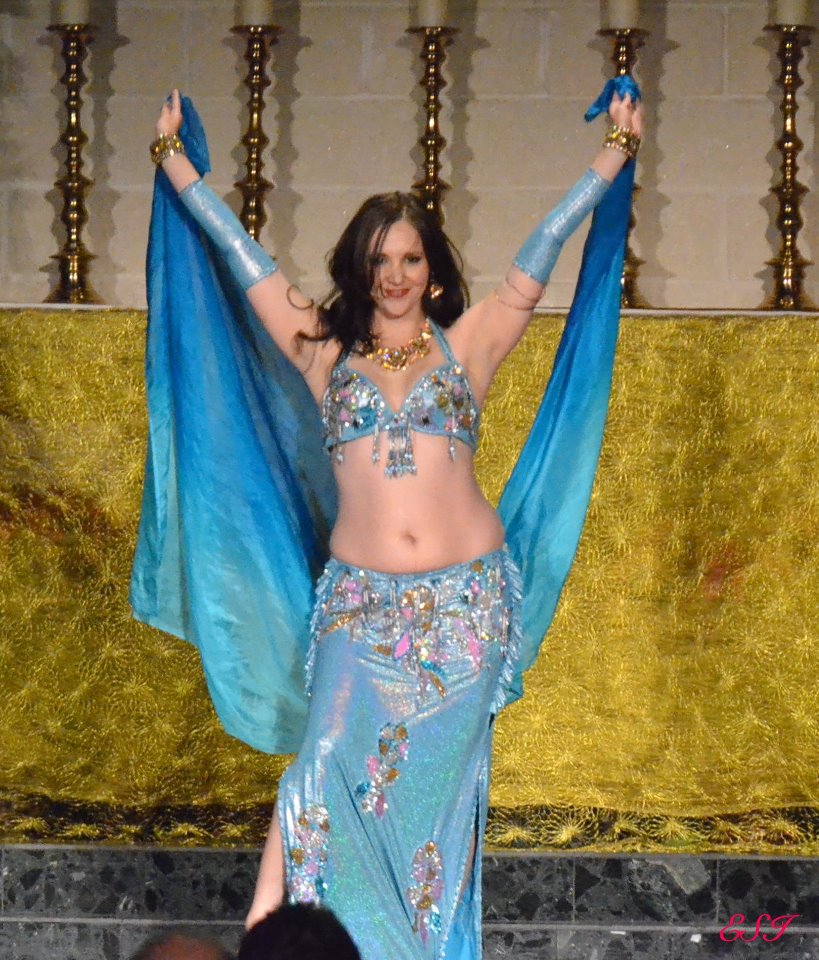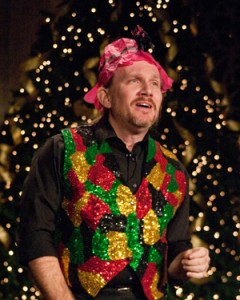 Bryan Lankford used magic and illusion to tell the story of Winter SolstiCelebration, how it gathered many separate pieces to create a together whole (in this case an entire hat instantly fashioned from shredded paper).
He led us through the elements. Air evoked how butterflies emerge from their cocoons and fly off on wings of beauty…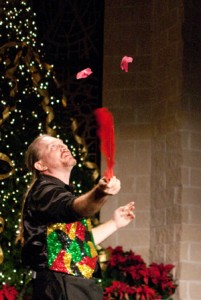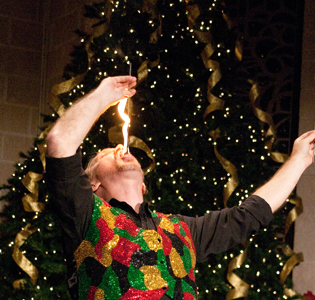 … and of fire's power to transform and the new life that emerges unseen, in his case a live rabbit! (It happened too quick to get on camera.) Photos by Kris Hundt.
Since he's obviously into animals, we thanked him afterward with the final annual SolstiCelebration howl.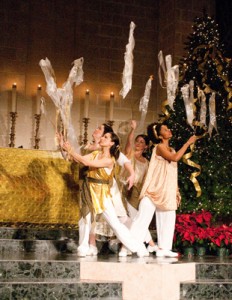 Andrew Tinker's song "Everyday" contrasted the epic evolution of mankind with the gift of love relationships that morality brings us. It was dedicated to my relationship with my husband Scooter Smith, which truly sustained the event over two decades. In 2013, he gets his holiday season back. We celebrated him by whistling and making birdcalls because he loves birds so much. It was tons of fun!
"Everyday"was enlivened by the excellent dance of the Barefoot Dance Brigade, featuring members of Contemporary Dance/Fort Worth and Feel Good Dance. Tucked away behind a grand piano and surrounded by Kelly Tomlinson on bass and often Martin McCall on drums, Tinker was exceeding hard to photograph. Photo by Kris Hundt.
Everyday I get down on my knees and pray

that I can love you in every way.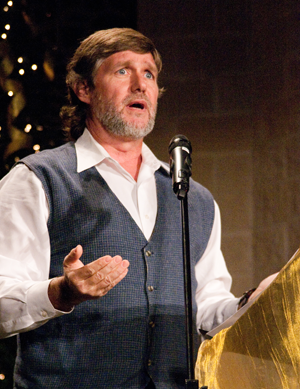 In one last full circle back to the event's roots, poet Tim Cloward (part of the original poetry ensemble Dancing Tongue) reprised his most popular piece "Kangaroo" complete with more howling from the audience. Exemplifying the Winter SolstiCelebration guerilla approach, he expounded on complex theories of time, consciousness, illusion and existence while giving the audience a rollicking good time. Photo by Kris Hundt.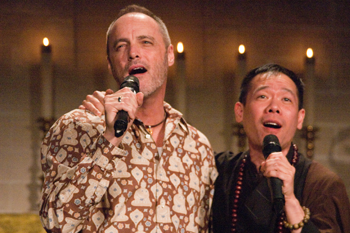 But we knew the night, and the event, was coming to an end. Gary Floyd and Br. ChiSing counseled us musically to remember that "We are one family, one heart," letting the lyrics and melodies open our hearts to each other. Photo by Kris Hundt.
The luscious sounds of Somos echoed that "We Are (One)". Photo by Kris Hundt.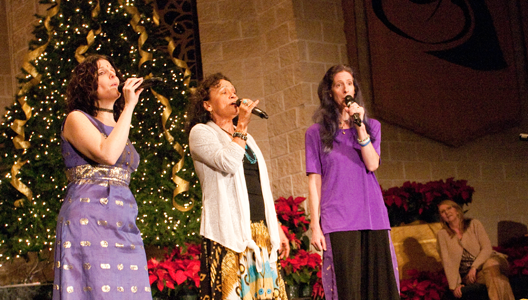 To conclude the event, and Winter SolstiCelebration's astounding 20-year run, Tom Prasada-Rao wrote "Our Last Embrace" as a blessing upon everyone there, woven from the voices of Cary Cooper and others. By this point I am pretty much a puddle. Photos by Kris Hundt.
And so it is, let it be

the time has come to set you free

to ring the bell, a benediction

to bid you well my love
After a moment of recognition of producer Rodney Steman and myself…
… we danced to the propulsive beat of  Drums Not Guns….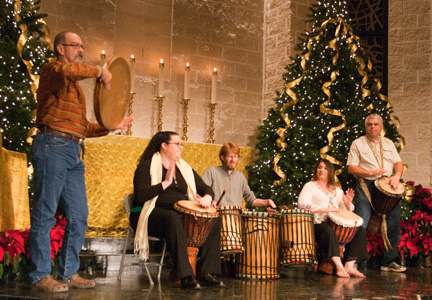 … through the gates of transformation and into a new world. Photos by Kris Hundt.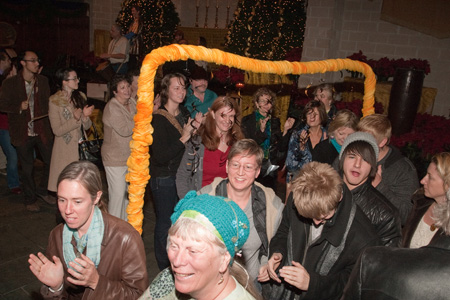 Members of Middle Eastern drum and dance from Constellation, mainstays of the event in the 2000s, gathered from as far as Seattle to do a special performance after the gates procession. Photos by Kris Hundt.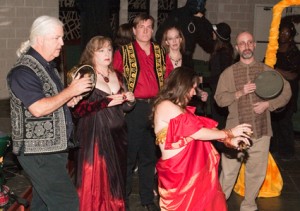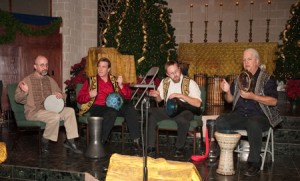 A few symbolic grace notes to an amazing event.
The gates now reside with the Unitarian Universalist of Oak Cliff, who plan to use them in their own Winter Solstice observance later this year.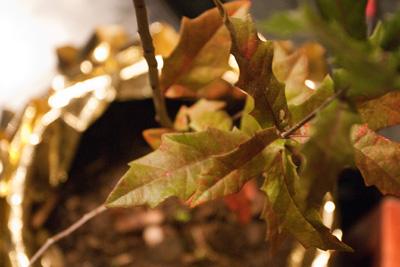 Taking the event's World Tree logo and transforming it into new life, a live oak donated by Ambassadors of the Grove now lives at a nature preserve called Osage Moon and is named Dale for the caretaker's late mother. Photo by Kris Hundt.
The Community Candle, golden cord from the Cornerstones of Community ceremony, lyrics from "Our Last Embrace," and memory book from the event now have a place at my house, the gold and flames reminding me of how wealthy I am to be blessed with community. Photo by Amy Martin.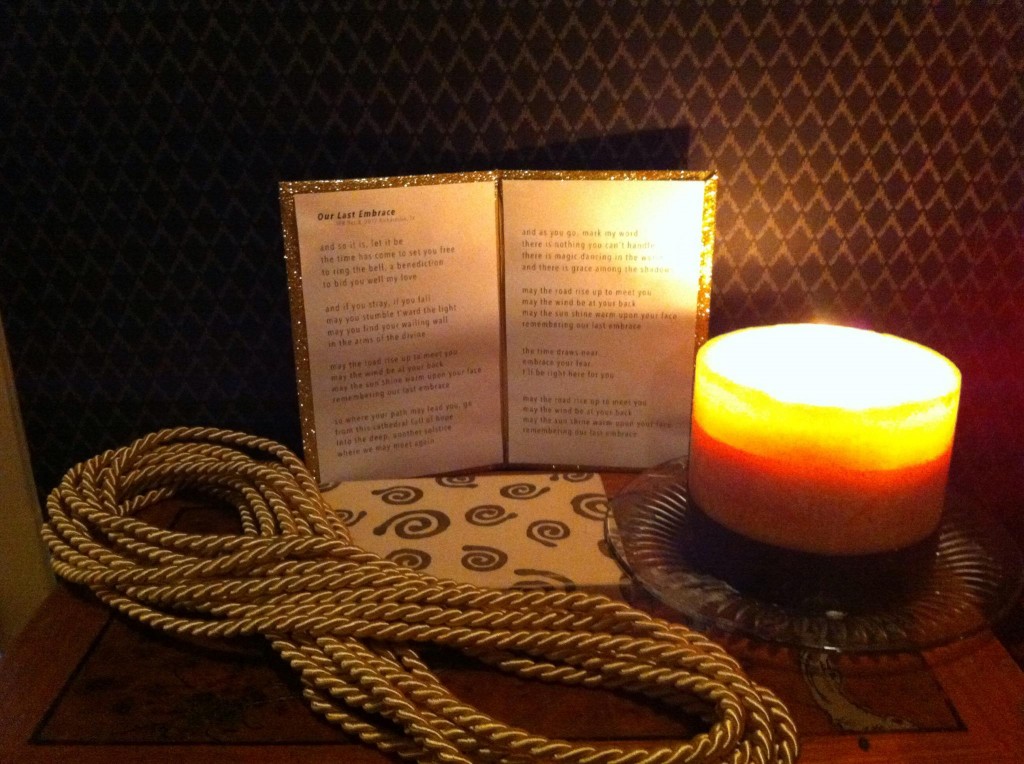 Much love from me to you!