Timber Press has contracted Amy Martin to write Wild DFW: Explore the Amazing Nature Around Dallas-Fort Worth, to be released in late summer 2023. The book will cover Collin, Dallas, Denton, and Tarrant counties and will feature over 350 images from area photographers. It is a follow-up to Timber's popular Wild LA.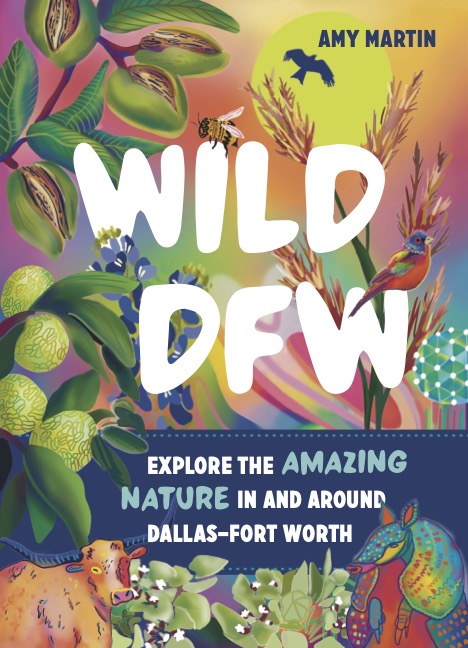 The first part details North Texas' natural history, ecology, and weather. A middle section features a quirky field guide to over 100 interesting species of plants, animals, and insects. The final part offers 25 adventures in North Texas nature, presented through hikes with the people who know the area best.
Wild DFW will also examine invasive species, nature after dark, the world of creeks and ponds, migration of birds and bugs, citizen science, urban ecology, and how you can turn your backyard into wildlife habitat.
Intricately laid in colorful design, Wild DFW will feature over 350 photographs from the most talented photographers in North Texas.
Primary photographers who went above and beyond, taking assignments and making extra efforts: Adam Cochran, Chris Emory, Daniel Koglin, Denver Kramer, and Stalin SM.
Photographers who shot specific places for the book: Grady Hinton (TRAC), Michael Puttonen (Cedar Ridge Preserve), Vijay Tanwar (Cedar Ridge Preserve), Clay Thurmond (Clear Creek Natural Heritage Center), Denise Thompson (Ray Roberts Lake State Park), Jennifer Weisensel (Ned and Genie Fritz Buckeye Trail), and Diane Wetherbee (Clear Creek Natural Heritage Center).
Photographers who opened their archives to me: Scott Carson Ausburn (Tarrant County), Bob Brennan (Arlington), Meghan Cassidy (wildlife), Carol Clark (plants and bees), Julie Custer (wildlife), Nick DiGennaro (birds), Tracey Fandre (wildlife), Sonnia Hill (flowers and plants), Kala Murphy King (wildlife), Annika Lindqvist (wildlife), Nick Mirro (plants and wildlife), Carey Newton (rivers and wildlife), Teresa Patterson (Trinity River), Randall Patterson (birds), Rajiv Roy (White Rock Lake), Roger Sanderson (reptiles and wildlife), Karin Saucedo (wildlife), and Don Young (Tandy Hills Natural Area and backyard wildlife).
Assorted and specialty photographers: Jim Bagley (trees), BatWorld MidCities (bats), Andrew Brinker (turtles), Judy Cato (creek), Zachary Chapman, Kim Conrow (monarch waystations), Sean Fitzgerald (Lights Out bird strike victims), Brent Franklin, Carol Garrison, Jeffrey Gladden (Hagerman National Wildlife Refuge), Ed Goodson, Steve Houser (trees), Stephanie Jennings, Cindy Kearney (pollinator garden), Brian Knabe, Samantha Knight (Twelve Hills Nature Center), Sara van der Leek (box turtles), Alan R Lusk, Mary Morrow (pond), Michael Smith (reptiles), Tom Streetman (Ladonia Fossil Park), Elaine White, and Tom Willard (Cedar Ridge Preserve).
Find @WildDFW online (in development):
Timber Press is dedicated to sharing the wonders of the natural world by publishing books from experts in the fields of gardening, horticulture, and natural history.
Photos in this post by Stalin SM. Showcases and URLs of featured photographers to come.