Photos: Zan Keith Photography. Slappy and Monday, above; Johnathan Lee Iverson, below. 
Cirque Joyeux, the latest from the Dallas-based Lone Star Circus, offers up an entertaining holiday show at Dallas Children's Theater.
by Amy Martin
published Saturday, December 30, 2017
Dallas — Ringling Bros. and Barnum & Bailey Circus may be no more, but Dallas is the beneficiary with the latest Lone Star Circus holiday presentation, Cirque Joyeux. Johnathan Lee Iverson, the circus' first African-American ringmaster and its concluding ringmaster, brings his big booming voice and presence to the show, all decked out in a red and white spangle tailcoat and top hat. Wish there'd been more of him, especially his singing, in Cirque Joyeux's opener on Thursday.
While Cirque Joyeux gets a rough start with a couple of younger acts from the Lone Star Circus school, rather than the bang it needs, it concludes with a couple of jaw-droppers from Cirque du Soleil's ranks. The rare chance to see those acts so close up make this a must-see show. But it also means that beloved local regulars get less stage time. Hosted by the Dallas Children's Theater and held at Rosewood Center for Family Arts, it runs through Jan. 1. Tickets.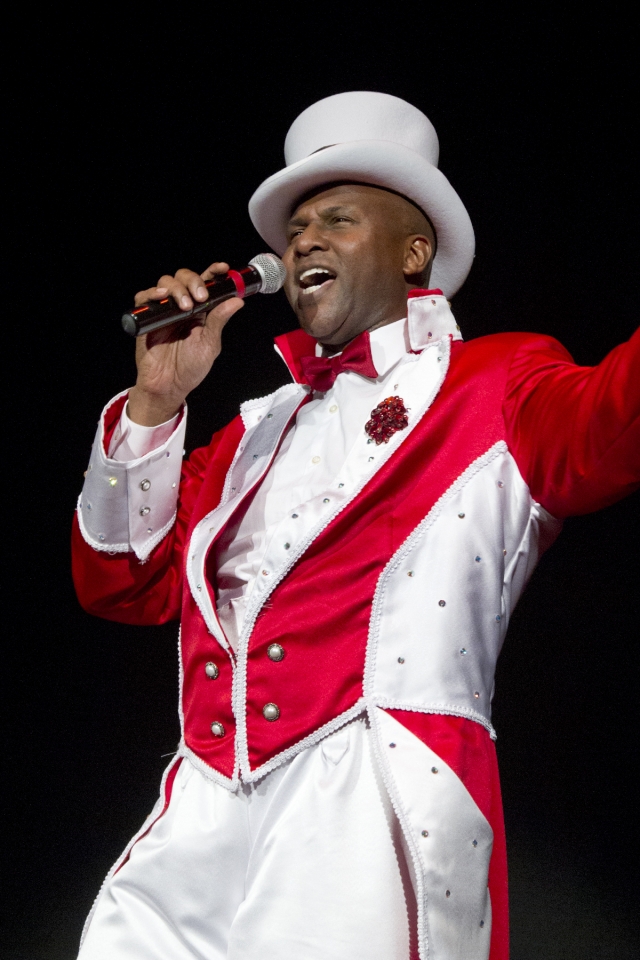 Hand-balancing contortionist Irina Naumenko is truly flawless, having practiced the craft since age 11 in Russia. She turns to contemporary choreographer Julie Perron to bring out her sublime elegance. It puts her leagues ahead. More than going from pose to pose to pose, she captures the extremes of the human condition in her kinetic creations.
At least twice in Rokardy Rodriguez's chair balancing, many audience members were seen mouthing "Please don't fall, please don't fall." He gets way up there, stacking over a half-dozen chairs at akimbo angles. Rokardy is graceful, which befits his ballet training, all while pulling off some tasty Latin dance moves. He tosses in a few headstands and other acrobatics, finishing it by balancing on a wine bottle—but only after he polishes the contents off.
Geddy Pavlovich of Lithuania looks like a burly roustabout, moves like Fred Astaire, and is just so darn likable. He aces the rola-bola, a dangerous equilibrium act done without a floor mat. From an elevated platform, he builds an ever-growing stack of rolling cylinders atop boards and more rolling cylinders aiming in all directions, then perches atop while doing hoop and juggling tricks and having a ridiculous amount of fun.
With aerial straps being an extremely competitive circus division, it's a struggle to stand out. Angelo Rodriguez of Peru has found a distinct way by executing his aerials inside of a spinning 6×6 foot chrome cube. The shadow effects are fantastic. Dallas-born Kelli Brown is a bit rough in her aerial silks act, but keeps her cool and her smile. Tapping her innate comedic talents would help her find a unique aerial persona.
Two performers show how skill is not defined by the number of props manipulated, but the grace, creativity, and extreme control of spin and speed. Asaf Mor, based in Dallas, does astounding things with just four hula hoops for most of his act, moving to the obligatory armfuls of hoops at the end. Réjean St. Jules of Canada creates fluid aerial art from four gleaming juggling clubs, mastering the slow-motion spin. He flourishes on a floor keyboard and triangular body-encasing stage prop, both wired for sound effects, that he percussively plays using tennis balls.
Daughter of Lone Star Circus founder Franny Kerwich and husband Mark Doyle, 11-year-old Gitana Doyle presents a beautiful, simple routine with an astounding amount of strength for her age. Joseph Gibby's hand-balancing and tumbling is not stellar, but the idea of using a couch as a prop is charming.
The Pompeyo Family and Their Amazing Rescue Dogs of Costa Rica feature precocious poodles of all sizes and one rat terrier in cha-cha lines, climb ladders, jump through hoops and then sometimes carry them away. The pups also do acrobatics like paw balancing and flips. The take their cues from father Jorge and a couple of adorable kids.
A cirque show is not a cirque show without clowns. Slappy and Monday of New York Goofs and Ringling did a few routines but are more subdued than usual. Most of the clown time goes to the immensely wacko Campa Family who boost the show energy with several short audience-invading sets. A trio of eccentric musical clowns, they riff off every clichéd Mexican song in the book like a brass band on hallucinogens. Very silly people and snazzy dressers with some cool musical toys.
Scott Osborne's stage design of deep indigo backdrop with multicolored jewel tone twinkling stars is the best yet for Lone Star Circus. The artful use of scrim to shorten the stage allows for a nearly unseen equipment exchange.
Original post and video at: http://www.theaterjones.com/ntx/reviews/20171230161328/2017-12-30/Dallas-Childrens-Theater/Cirque-Joyeux