One Night Only: Gamelan D'Drum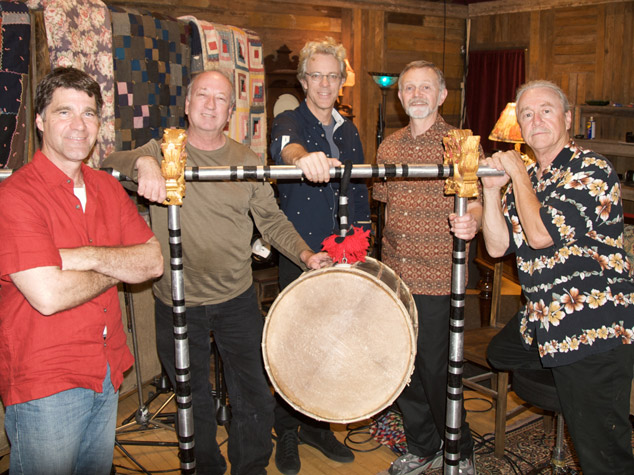 by Amy Martin
In Bali and Indonesia, music arises from life: the steady rhythm of pounding rice into paste, the choppy beats of waves in shallow tropical bays, the polyphonic swelling of frog song at dusk, the rolling rhythms of gentle jungle hills. This merges with a spirited grace captured in their gamelan ensembles. Based on melodic tuned gongs that are arrayed in the manner of keyboard percussion such as marimbas, they also include wood drums, bamboo flutes, and bowed and plucked strings.
The Dallas-based ensemble D'Drum takes these rhythms and others from around the world, melds them with their own jazz and classical sensibilities, and executes them with a stunning level of musical chops. This makes them a perfect match for a Dallas Symphony commissioned composition from the former Police drummer Stewart Copeland, a globetrotting musical synthete with a precise drumming style that never loses track of the groove.
"Gamelan D'Drum" debuted on February 5, 2011, after the first two shows were canceled due to a freakish ice storm that also led to a minimum of rehearsals. Not that anyone could tell at the debut concert. The half-hour composition was virtuallywithout flaws, even with the five D'Drum percussionists having to move rapidly between dozens of colorful instruments crowding the Morton H. Meyerson Symphony Hall stage.
Truly a milestone in both the band's and Copeland's careers, "Gamelan D'Drum" was the first time for D'Drum to perform a piece not created from improvisational interactions as the band usually does. The piece was, however, highly collaborative, with recordings passed back and forth over several months between composer and band. The resulting percussion score was a monster, especially the vibe, marimba and cimbalom parts.
So committed was D'Drum to seeing this piece to fruition that they commissioned Javanese and Balinese sets of gamelan bells in concert pitch by their favorite Indonesian instrument maker. In the relaxed manner of the Indonesian islands, gamelan in one village might be set to a different tuning than that in another, and neither truly syncs up with western intonation.
For Copeland it was a chance of a lifetime to merge his global sensibilities, arising from his peripatetic childhood and so showcased in WOMAD, with the classical style composing he'd made a name for in film for the last decade. But unrestricted by the necessary limitations of soundtracks, and fueled by the soaring excellence of the Dallas Symphony and conductor Jaap van Zweden, Copeland's creativity bloomed into true fine art, with D'Drum as the inspiration for it all.
Copeland chose an orchestration of piccolos, flutes, oboes, clarinets, bassoons, horns, trumpets and trombone, along with a full string complement, to highlight D'Drum's Balinese and Javanese gongs and bells, African and Middle Eastern drums, and assorted gamelan percussion. The percussion bloomed under the Meyerson acoustics, at times overwhelming the symphony that could have used a touch more amplification.
Possibly no other composer today could have blended so seamlessly a global improvisation-based percussion ensemble with orchestra. At times, D'Drum would showcase a rhythmic section, creating a textural bed, and the orchestra would slide in, echoing and then expounding on the motif. The composition sounded natural, fluid and spirited under van Zweden's passionately precise direction. The violin solo by guest (and former DSO) concert master David Kim with D'Drum was goosebump inducing. A true testament to van Zweden's depth of skills that he so gracefully fused improvisational percussion and scored orchestra. His intense focus on the band's spontaneity was thrilling to behold.
Because of the unique instrumentation and skills of D'Drum, it's doubtful this composition could be performed with another ensemble. Copeland took care to showcase each band member's strengths. John Bryant had a turn with his global drum kit, highlighting a versatility born from his own considerable composition chops. Jamal Mohamed was spotlighted in his classic doumbek solo in which he plays the small ceramic goblet drum from both sides of the drum skin, much to the perplexment of the audience. Douglas Howard's nuanced marimba work and Ron Snider's cimbalom excellence show why they are such valued leaders in the symphony's percussion section. But the heart of the composition belonged to vibraphonist Ed Smith, who most captures the taksu spirit of gamelan, especially on the Balinese reyong.
The presentation of "Gamelan D'Drum" represented some serious boundary pushing for North Texas musical culture. Jaap van Zweden and other leaders in the Dallas Symphony, plus all the performers, are to be congratulated for enabling such a groundbreaking work of art to become reality — a trans-global effort that even surmounted at the end considerable weather odds. The audience showed its appreciation with a thunderous and extended standing ovation that included repeated curtain calls.
This reviewer is going to look back many years from now and say: "I saw that show, that one night, that one show, and it was sincerely amazing." Or maybe the Dallas Symphony will realize the importance of this work and do it justice with a return extended engagement.
February 7, 2011