Sustainable leaders honored by GreenSourceDFW for green work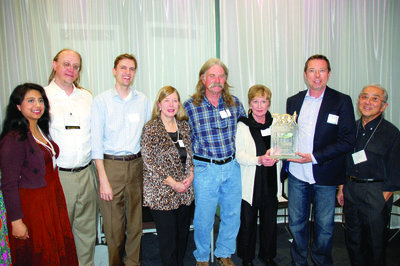 'Sustainable leaders' honored for GREEN work
Dallasites who want to live in an area where nature and wildlife is cherished, there's but one place: White Rock Lake. So it's a small wonder that three out of six winners of this year's GreenSourceDFW Sustainable Leadership Awards live there, and the project manager of GreenSourceDFW, Woodrow Wilson graduate Phillip Shinoda, lives in Lake Highlands.
The awards, sponsored by the Memnosyne Institute, are given to environmental activists who are working to save natural places and create a cleaner, safer world. At the award ceremony held in early March, executive director Phillip Collins said: "This is an environmental community whose size and diversity is often not recognized. We appreciate you."
The Lifetime Achievement award was presented to Margie Jackson Haley who has been active in environmental causes for more than 25 years. She was instrumental in getting recycling started in Dallas and spearheaded the Sustainable Dallas conference for several years with eco-architect Gary Olp and recycled products retailer Tom Kemper. Her proudest moment was convincing a group of Dallas doctors to educate the Texas Medical Association that "air pollution is a public health issue." The threat of permits being grandfathered for "dirty coal" plants that use antiquated technology spurred Haley to action, which led to the association making a public health statement.
Haley's roots here her deep. Her grandfather was one of the first to move to the lake and she grew up at her parent's White Rock house. Jackson Point is named for the family. The house off West Lawther that she shares with husband John Haley, M.D. is a model of advanced green living with solar power, energy conservation, bee hives, organic gardening and even aquaculture of fish in their pond. When Haley desires a quiet White Rock nature fix, she simply saunters to her front yard: "It's all natural with several 200-year-old old trees and native plants. It feels like I'm in the middle of a forest."
Few eco-architects in Dallas are as high profile as Gary Olp, founder of GGO Architects. Many public buildings, as well as residences, bear his hallmarks of energy conservation and renewable energy generation, low water usage and grey-water recycling, sustainable materials and seamless integration of buildings to the natural landscape.
This is reflected in his own home on Northcliff across from Hexter Elementary. A life long nature enthusiast, when not taking in the views from the Bath House Cultural Center area, Olp's favorite place to seek nature at White Rock is Sunset Bay where "the wetlands area is quiet and you have a great chance of watching the birds and wildlife just doing their thing."
"We really don't have an environmental problem, we have a design problem," Olp said at the awards presentation. "There's a lot of hope for the future because we can design our way out of it." An active advocate for green building and green business practices for more than 30 years, Olp was recently honored as Outstanding Individual at the national Clean Air Through Energy Efficiency conference. He has multiple awards from the U.S. Green Building Council and remains active with the group
Environmentalism brings to mind pollution and energy issues about which we sometimes feel helpless. Nanci Taylor knows that each person can have a huge environmental impact with something they do every day: eating. As the publisher of Edible Dallas & Fort Worth, Taylor has spearheaded the green food movement by fostering a farm-to-table awareness. She received the Sustainable Entrepreneur Award for her efforts. "I support eating food from local farms and producers who follow sustainable farming practices, which reduces our ecological footprint," Taylor said.
"Eating locally produced food instead of that trucked in from another region reduces gas emissions. Also, eating local and seasonal food just tastes better!" Taylor credits her parents and their passion for gardening with instilling a love of fresh, local food. Her own backyard garden in Little Forest Hills keeps her well supplied. She chose to live in the area "because of its beauty and natural environment."
For more information, visit GreenSource.DFW.org.
Read more: White Rock Lake Weekly – Sustainable leaders honored for GREEN work