Lost Pines Trail at Ray Roberts Lake State Park was the setting for a forest bathing walk led by Laurence Turcios. Photo by Denise Thompson, courtesy of Wild Dallas-Fort Worth. 
April 14, 2022
It's a splendid spring day and a group of my treehugger friends gather to learn a new way of experiencing a forest.
French native Laurence Turcios, the proprietor of Slow Trails Forest and Nature Therapy, is to teach us the art of shinrin-yoku, or forest bathing, from Japan.
The meeting place is Ray Roberts Lake State Park northeast of Denton, a classic Eastern Cross Timbers mosaic of prairie and post-oak-dominated woods. Yet, within its midst is a soaring loblolly pine grove, more often seen in East Texas.
The friends, mostly North Texas Master Naturalists, sit on wood benches beneath the pines, while Turcios speaks of forest-bathing benefits in her lilting French accent:
"When we spend time among trees, they release a compound called phytoncides that are part of the tree's immune system. And when we inhale them, we also get a boost in our immune system," she says.
According to Turcios, who is certified by the Association of Nature and Forest Therapy, back in the 1980s in Japan, the government started to be worried about autoimmune disease and cancer.
"They did a series of studies on spending time in nature, and the first thing they saw was a decrease in blood pressure and the stress hormone cortisol."
For the naturalists, it isn't just about health and de-stressing. We're here to learn how to reprogram our brains — trained to study and identify nature. Instead, we'll hone our skills in simply appreciating nature and connecting with our senses, even our emotions and memories.
"Forest therapy walk is not a hike," says Turcios. "It's not just going from one point to another but about being in the present moment. We want to experience the forest with our senses through slow walks and meditations. It's about immersion in the forest."
SHARING STORIES, AWAKENING SENSES
Before our slow walk on the Lost Pines Trail, we recount stories of our favorite trees.
Kristi recalls her childhood's huge pecan with the wild tree swing over Crow Creek.
Mark's pecan held a tree fort.
Scott and Rebecca remember the aromas of childhood sycamore and eucalyptus trees.
Molly shares memories of a giant sycamore behind the home of her grandfather, famed forest defender Ned Fritz.
Her mother, Eileen, recounts a perfect afternoon next to a pond, pondering the scruffy beauty of a survivor tree struck by lightning.
INVITATIONS
The walk entails a few stops, what Turcios calls "invitations."
In our first, we stand with our eyes closed. Turcios invites us to turn in different directions and notice changes in sound, sunlight and air quality, to use our entire body as a receptor for the senses.
I am aware of sunlight falling on my skin, microcurrents in the air, and how a profuse amount of bird calls weave with each other like instruments in a symphony.
In the sharing that follows, Scott notices how the sound of wind through pines is different than the deciduous forest he's used to. Mark is enamored by the sunlight filtered through the trees yet also shadows of bare branches:
"You get that little mix of cool and warm," he says.
Molly is also intrigued by contrast.
"I'm noticing the pine needles on the ground and the smell as the sun is warming them, how they weave together to form this soft yet crisp blanket," she says.
The next invitation is called "What's in motion?"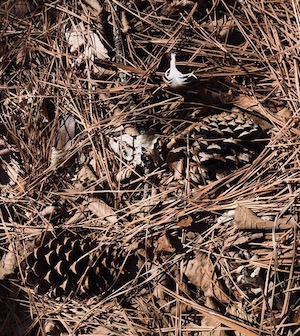 Turcios instructs us to take a slow walk on the trail or off. We'll meet in about 15 minutes.
"Listen for my call," says Turcios, emitting a raspy sort of owl or heron sound
It was a slightly breezy day. I'm entranced by the moving shadows of trees and fallen pine needles caught in the branches of a post oak that dangle and dance in the wind. I seek out the motion of beetles and insects in the leaf and pine needle litter, dig into it and notice crispy organic matter decompose into rich humus and then mix into sandy soil.
RECIPROCITY WITH NATURE
In some countries, you can get a prescription for forest bathing.
"[In Japan,] they have certified trails where people go and it's part of their health system," says Turcios. "The idea is spreading. In Canada, they offer a free annual parks pass to people with a prescription."
But the Association of Forest and Nature Therapy takes traditional shinrin-yoku a step beyond.
"It puts the accent of reciprocity," says Turcios. "To go above just using nature as a resource, but maybe also what can we bring it in return."
"We believe that when we experience nature with our mind, but also with our heart, we may be more able to be kind to it. And that is passed on to future generations."
"We believe that when we experience nature with our mind, but also with our heart, we may be more able to be kind to it."
States the AFNT, "Forest therapy is a practice of developing a deepening relationship of reciprocity, in which the forest and the practitioner find a way to work together that supports the wholeness and wellness of each."
FOREST PHILOSOPHY
In the third invitation, we ramble into the forest again, hoping to encounter an object that speaks to us.
Mark offers a dead but still colorful tiger swallowtail in the sharing that follows, prompting others to muse on mortality.
Kristi ponders how similar the trees' vascular system is to her own, how they both breathe and transform gasses, intimately entwined.
We are getting quite philosophical by this point. Rebecca reflects on being a master naturalist.
"I find that to truly love nature, you need to honor it and you need to know it," Rebecca says.  "The more you learn, the more you can appreciate. But this has brought me closer to nature."
The invitations have sharpened our skills in not only experiencing nature but dealing with distractions by choosing where we place our focus.
"Noise pollution always bugs me," Rebecca observes. "When we hear the birds, we think this is a relaxing place. But actually, they're really busy, trying to get food, competing with one another, holding court. So maybe I can remember that, to accept that people are doing the same thing. So why can't that be my peaceful place, too? It's just people instead of birds."
WISDOM OF THE WATER
In our last invitation, "One Step at a Time," Laurence asks us to remove our shoes and leads us in a slow barefoot walk to the lakeshore, inviting us to feel the connection of our feet to the Earth.
Our inner child emerges at the shore. Scott wades in quickly and the rest of us follow. The mix of slick clay and rough sandy patches surprises us. We slip around and laugh.
While we rest on the shore, a motorboat peals by, a disturbance it seems, yet as we sit on the shore, we marvel at the variety of waves it kicks up long after it departs, setting off ripples that accumulate into a tumbling wave with brisk white crests.
It's so easy on the lakeshore to feel an elemental connection at this intersection of water and earth, whisked by the wind and warmed by the sun. I wonder if the imprint I'll leave behind is shallow or deep, knowing either way, the waves of time will consume it after I'm gone.
CEREMONY BENEATH THE TREES
We return to the forest to find that Turcios has set a picnic blanket with small wooden cups, bowls of nuts, and tiny oranges for a tea ceremony. She fills the cups with cool lavender-mint tea for us to sip and reflect on the day. We enjoy munching on the Earth's bounty as others share thoughts on the day, and our philosophical bent deepens.
Holding a honey locust stem bristling with long thorns, Rebecca makes an observation.
"These spikes are an anachronism, evolved to protect itself from large ancient creatures. I look at them and it's an incredible connection to what was here. But it also makes me kind of sad, these plants continuing to fight a war that's long gone."
Scott also gets melancholy looking at the lake, despite its beauty.
"I feel a sense of loss or sorrow that we've dammed up a lovely river and we'll use it for as long as we need it for, but we've lost everything that was here before for such a long time."
Indeed, as Aldo Leopold, a pioneer in wildlife ecology and wilderness preservation, said, "One of the penalties of an ecological education is that one lives alone in a world of wounds. Much of the damage inflicted on land is quite invisible to laymen."
I'm very struck by the process, particularly for the four master naturalists. Having so much knowledge, it's a struggle to put that knowledge on the back burner and just experience our surroundings. It's fascinating how we humans are pattern recognition machines, yet it's profound to put that aside and simply be in the present moment.
Eileen conducts Earth Ceremonies, and even more than the rest of us she offers gratitude to Turcios for the day.
"I think of my father and how he would get people out into nature. They'd become so enamored. It was contagious. I can see how forest therapy could do that."
Then we stroll back to our cars, walking each other home, as Ram Das would say.
"The Forest is the therapist; the guide opens the doors." — Amos Cliffort, founder of Association of Nature and Forest Therapy"
Slow Trails Nature and Forest Therapy
About: Guided slow walks in the DFW area by Laurence Turcios, a certified Forest and Therapy Guide with the Association of Nature and Forest Therapy.
Where: Locations offered in Ray Roberts Lake State Park's Isle Du Bois Unit and Breckinridge Park in Richardson. Other locations are available.
Special Needs: Accommodation offered for the mobility impaired.
Cost: $25/person. Minimum of three people for a 2.5 hour gentle guided walk.
RELATED ARTICLES
'Mindfulness' enhances nature walks
Coping tools can help heal 'environmental grief'
Critter-related phobias can keep us from enjoying nature
---
Stay up to date on everything green in North Texas, including the latest news and events! Sign up for the weekly Green Source DFW Newsletter! Follow us on Facebook and Twitter. Also check out our new podcast The Texas Green Report, available on your favorite podcast app.