Kiamichi Mountains of southeast Okahoma: Blue Ridge of the west
by Amy Martin
Kiamichi Mountains, here we come! Our goal: the Talimena Scenic Drive in full fall foliage splendor. Spending three days in southeast Oklahoma and a touch of Arkansas. We're taking Dotty and Mable along. It's their first road trip with us. We used to spend every spare moment at Osage Moon. So this will be their first time to spend the night away from homes. For being 10 years old, they are spry and game for the adventure.
We zip through North Texas up US 75, cross the Red River into Oklahoma, and past the huge modern Choctaw Casino complex looking surreally out of place. We plod through Durant, which smells entirely like barbeque, and then poke along eastward on US 70, passing one interminable small Oklahoma town after another. The website that gave a travel estimate on the route was obviously delusional. We are running an hour behind.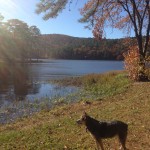 Once to Antlers we take a diagonal across Oklahoma on US 271 and the western edge of the Kimachi Mountains emerge. We drive the narrow highway into the long low arcing ridges stacked like a curved staircase that unfurls to the horizon.
We make a pit stop at Lake Clayton State Park, a rock-bottomed lake of clear water, edged with cattails, water lilies and willows turning golden. Dotty is delighted by the bracing water and takes a swim. She'd like to stay, bit we are racing a setting Sun.
Talimena: Vista Vista!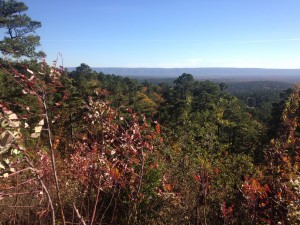 It's mid afternoon before we reach Talihena and the western end of the Talimena Scenic Drive. At last! I've drooled to do this drive for over two decades. A true ridgetop, skyline drive, created by US Forest Service personnel for the sole purpose of beautiful views.
Carved out of the shale and sandstone along the way are overlook spots that range from wide places in the road to private tuckaways at the end of short drives. Be sure to get out for the view. Many hold delightful surprises you'd never see from your car.
The state of Oklahoma aces these overlooks with attractive design and parking. As well-rounded geeks, we groove on the informative signs that cover ecology, mountain geology and forest botany, and history from Native American through the settler era and the Civil War, and on to present day. Much props are given to the Choctaw.
The Potato Hills Vista is charming, a showcase of the lumpy Kiamichi foothills. We especially enjoy the Panorama Vista with its nearly 360 view along a circular drive. It's bracingly out on the edge and favored by hang gliders. On this day there is a constant intense 30 mph wind, so no gliders today.
The Hills are Alive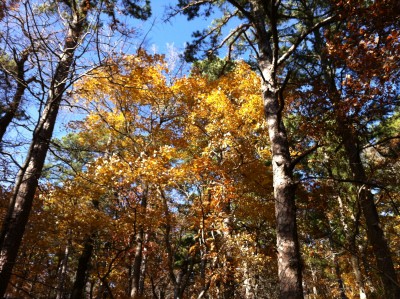 These slopes are exceedingly steep for mountains only in the 3000 feet range. Forest Service Road 6010, aka Deadman Road, heads off to the right, slicing diagonally across a few thousand feet of forested slope, tumbling like a roller coaster. But such roads require a strong will and the right vehicle to navigate. Despoiling the landscape with crashed cars and body parts is frowned on.
A community of travelers develops, all driving the same speed, ogling the same terrain: a snazzy middle aged couple in a sports convertible, young hipster in a purple GTO, nature loving guys in pickups, retirees in sedans, and us in our Subaru Forester.
Unseen in the woods is another community: cross-country hikers following the Ouachita National Recreation Trail that rambles a bit lower on the ridge adjacent to the Talimena for a while before heading out to Hot Springs and Little Rock.
The North-South Divide
Deadman Vista which comes next is a great place to view the mountain's divided personality. Unlike other North American north-south mountain ranges, the Kiamichi and Ouachita Mountains run east-west. Geologic forces squeezed a low area in a deeply ancient inland sea, compressing it to half its width and folding the land like an accordion.
Different plant ecosystems inhabit each slope. Aimed toward a cool and moist north-facing slope, and a soft muted array of yellow sweetgum, orange ashes and reddish brown post oaks. The slating rays of the late afternoon light up the leaves to brilliance.
We come around a curve and the next view is of the sunnier and drier south-facing slope with predominately dark green shortleaf and shagbark pines that frame bright slashes of yellow and orange hardwoods
The higher up the mountains the car climbs, the colors become more intense and the vistas more immense. At times along the narrow highway, the fall colors climb up the steep slopes just a few yards outside the car. The red of the slender dogwood understory trees and their even redder berries is tantalizing.
Vista Vista!
Each turn on the Talimena brings a dramatically different view. The deeply folded, forested slopes below the Shawnee Vista look much as they did in the a thousand years ago when the Shawnee were one of many tribes to hunt the deer that flourished here in the small, warm, sheltered valleys. It also holds veins of chert, an iron-hard mineral coveted by the tribes for tools.
Horsethief Springs Picnic Area and Campground boasts 1930s Civilian Conservation Corps stonework and buildings crafted from regional sandstone, along with some short hiking trails and connection to the larger trail network.
As we pull up to visit Emerald Vista, part off the Winding Stair Recreation Area & Trailhead, we see a couple of hikers come off the Ouachita Trail with just enough daylight ahead to enjoy bathrooms with showers before settling into a cushy night of soft tent sites and fire rings.
South to Wilderness Cabins
Emerald Vista affords broad valley views and distant mountain ranges beyond. The Talimena can be seen unfurling into Arkansas. Sunset is imminent and we leave the Talimena, heading south on US 259, a major route for lumber industry trucks through this patchwork of timbered land and protected national forest. Even so, as we cross the Mountain Fork River, a flock of wild turkeys arcs across our path in the dusk light.
Our abode for this trip, Wilderness Lakefront Resort Cabins, sits at the northern tip of Broken Bow Lake, a perfect location for exploring both Talimena and the Broken Bow area. Unlike a lot of the area rental cabins which are in residential enclaves, the set of eight charming log cabins is an astounding seven miles off the highway inside the Ouachita National Forest.
Our cabin perches on a golden foliage bedecked slope that descends near vertically into Broken Bow Lake. We can see through the trees to the cliffs on the other side. A short, near vertical, trails leads to the lake. Even better, McCurtain County Wilderness and its trails is literally across the street. If hiking is your thing, but you need a warm bed at night, this place is perfect.
Deer greeted us on the drive in and ambled the property all night. We woke the next morning to beautiful fall foliage and vistas right outside our door. The stars glimpsed in gaps between trees were brilliant. The cell phone service was might weak and the resort wifi even weaker. But that's what we're here to escape anyway.
Talimena Part Two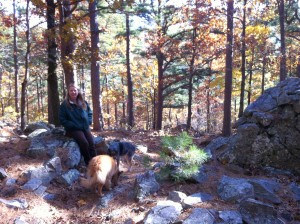 The next day, the eastern section of the Talimena gets off to a strong start swooping curves as we rise through the Winding Stair Mountain ridges. Slashes of autumn hues peek through the pine laden slopes of Emerald Vista.
Kerr Arboretum is a true arboretum — it's entirely about trees, 6000+ acres held as a teaching forest for conservation management. Of the 3 miles of trails, crushed rock and informative signs on the forest-theme trail make for an easy mile, as does the creekside trail.
We prefer the more rugged geology-theme trail that ascends a slope and back down again, crossing lichen-encrusted boulder outcroppings and spring rivulets. Here in the shrubs and herbaceous plants amid the orange and yellow leaf litter, you see glimpses of the Guiness-record diversity of this forest, on a par with rain forests. That's why they call the area Rich Mountain. Must be stunning in summer.
Sunset Vista affords a sweeping view toward the west and the golden light of late afternoon intensifies the hardwoods' amber foliage so much it's shocking. To the east, a waterfall of rocks and boulders cascades down the slope, proving to be an irresistible lure to a family of young boys who clamber with their father amid the red dogwoods clinging to grey stones.
Sky Scraping
The fall foliage of the Oklahoma section of the Talimena was far more beautiful than we thought it would be. Arkansas is going to have to step up. As the drive approaches Arkansas it ascends and skims the very crest of the ridges, affording far-reaching views on both sides.
At Castle Rock Vista, gnarled oak trees twist in the constant wind, reaching a modest 15 feet, even though over a hundred years old. Like a mountaintop arboreal tundra, persistently clinging to life and dry like a desert, whipped free of moisture by the wind.
We skim the sky, racing the ridges. Off to the left we see a near identical ridge. To think we are driving along something like that is a blast. Top of the world, baby! We deduce that the valuable guy in traveling tribes was the expert tree climber willing to endure branch scratches for a tree top view and able to memorize the terrain ahead.
The Queen's Pleasure Palace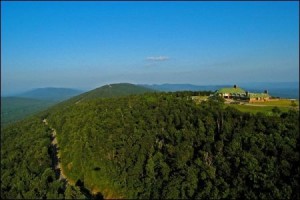 As we come around a curve and out pops the '40s block-mansion mass of the Queen Wilhelmina Lodge perched on the highest ridge. It was financed by a Dutch company with lumber interest in area, and named in the vain hope that royalty would pay a visit. It's supposed to evoke a European style mountain lodges, but looks more modern than rococo. Under renovation to open in 2015, the restaurant must have impressive views.
We visited after Columbus Day when the park attractions shut down, all the cutesy stuff for families with small children who enthrall to its miniature railroad and miniature golf, animal rehab/petting zoo. Plus a network of short and doable, but challenging, trails to places like a stone amphitheater, natural spring and spectacular overlook. We didn't have access due to renovation. Disappointing.
Roadside Geology
From the Round Mountain Vista, there's not man-made road or structure in site. It's simply too rocky and remote to be of commercial use. The mountain strata tilts along here and we drive past diagonal layers of rock exposing millions of years of geologic history. I can almost touch it. As geology nerds, we are thrilled. Also because the road barely clings to mountainside.
At the Blue Haze Vista, geologic forces are on display in the unstable, boulder-ridden, Earthquake Ridge strafed by fractures. But they're not by earthquakes, but by earth folding. If a section of land is squeezed into a smaller space, it folds like an accordion.
The end of the Talimena approaches and darkness is falling fast. We bypass the East End Visitor Information Station where a paved trail is said to lead to a great view. It's a crazy race over to Mena and on over to Broken Bow Lake and our Wilderness Lakefront Resort Cabins.
Wilderness, Ho
The dogs and I took a hike the next morning from the cabins down the hill to the lake. Slipping down the moist, steep slope, the trail getting narrower as we went along, until the water was tantalizingly close… if we wanted to leap a 20 feet off a bluff into Broken Bow Lake. Sure was pretty though, slopes slashed with yellow and gold amid the evergreens, all reflected in the water. Worth the scramble back up.
Just across from our cabin was the trailhead for the McCurtain County Wilderness. Same steep slopes, but so different. This area had never been logged nor cattle run on it. Horses, motorbikes, bicycles and ATVs are not allowed.
All that makes it serene and green. Delicate herbaceous plants, untrampled and uncrushed, flourish here beneath oak and evergreens. Trees 30 to 40 feet tall tower over a vigorous understory of blazing red dogwoods and purpled beautyberry.
The trail led down to a creek draw where the ecosystem shifted to broader bottomland trees and soft grasses that grew tall in the moist soil. Screened by the foliage, a buck detected us and bounded away.
This little fold in the mountains, sheltered from elements and cherished by man, is a postage stamp of a wilderness, but a wilderness nonetheless. The land and its non-human inhabitants have primacy here.
Back to Broken Bow, On to Idabel
Time came to head back to Dallas. We headed south and drove around Beavers Bend State Park, which frames the lower west side of Broken Bow Lake and the Mountain Fork River below the dam. Scattered along the road in were bunches of attractive cabins and signs that pointed to even more off the main road.
Beavers Bend State Park was less developed than I remembered, though the campgrounds were plenty crowded. RVs were parked in every one of the primo spots next to the river. The river cabins were mostly empty and simply must be done someday, especially the very private one on the very end. Though we didn't explore them, the trails looked grand and come in all levels of difficulty, with a variety of landscapes such as lakefront, wetlands, meadows and low mountains.
We were delighted at the Museum of the Red River in Idabel that celebrates the native peoples of the Americas with a special emphasis on the Caddo and other cultures of the region. A national level museum in Idabel! Quintus Herron and his wife Mary collected artifacts for decades. The town came together and helped create this snazzy place. The museum now also shows works of modern Indigenous artists and some of the works were stunning. Plan on spending at least two hours and check back each time you pass through since the exhibits change frequently.
Links
General
http://en.wikipedia.org/wiki/Kiamichi_Country
http://en.wikipedia.org/wiki/Kiamichi_Mountains
http://en.wikipedia.org/wiki/McCurtain_County,_Oklahoma
Talimena Scenic Drive
http://www.talimenascenicdrive.com/
http://www.fhwa.dot.gov/byways/byways/2485/maps
map: http://www.talimenascenicdrive.com/interpretive-guide/the-drive/
Talimena State Park
50884 Hwy 271, Talihina,  OK 74571
http://www.queenwilhelmina.com/things/hiking.aspx
http://edgecast.data.travelok.com/okdataengine/appmedia/documents/0/54/TALIMENA.pdf
Kerr Arboretum and Nature Center
State Highway 1 (Talimena Scenic Drive), 1.5 miles east of U.S. Highway 259
http://www.fs.usda.gov/recarea/ouachita/recreation/outdoorlearning/recarea/?recid=10766&actid=119
Queen Wilhelmina State Park
3877 Highway 88 West, Mena, AR  71953
http://www.queenwilhelmina.com/things/hiking.aspx
Hiking
David Boren Hiking Trail – Beavers Bend State Park
Composed of 7 smaller trails. The Beaver Lodge Trail, Cedar Bluff Nature Trail, Beaver Creek Trail and Southpark Trail are all one mile long. Lookout Mountain Trail runs one and a half miles. Deer Crossing Trail runs two miles. The Skyline Trail, which is formerly known as Big Oak Nature Trail and Dogwood Interpretive Nature Trail, runs five miles.
More: http://www.forestry.ok.gov/hiking-trails-in-beavers-bend-state-park
McCurtain County Wilderness Area
http://en.wikipedia.org/wiki/McCurtain_County_Wilderness_Area
http://www.wildlifedepartment.com/maps/McCurtain%20County%20Wilderness%20Area.pdf
http://www.wildlifedepartment.com/facts_maps/wma/mccurtain_brochure.PDF
Heavener Runestone Park
18365 Runestone Rd Heavener, OK 74937 Phone: 918-653-2241
http://edgecast.data.travelok.com/okdataengine/appmedia/documents/2/2046/Heavener-RuneStone.pdf
http://en.wikipedia.org/wiki/Heavener_Runestone
http://www.sunnyway.com/runes/americanstones.html
The Runestone Interpretive Trail, located near the information center and gift shop, is approximately 200 yards long and takes visitors to the unique historic site that the park is named after. The Nature Trail, which is one mile long, also begins near the information center and gift shop and runs to Group Shelter #1. The Cliffside Trail, which is also one mile long, begins at Group Shelter #2 on the southern tip of the park and runs to the runestone. Hikers traveling along this path will enjoy beautiful views from the scenic overlook area, so be sure to bring along a camera.
Queen Wilhelmina State Park
3877 Highway 88 West, Mena, AR  71953
http://www.queenwilhelmina.com/things/hiking.aspx
Indoor Excursions
Gardner Mansion & Museum
6745 E US Hwy 70 Broken Bow, OK 74728
10:00 am, 5:00 pm except Sunday 2 to 5
1884 home of Choctaw Chief Jefferson Gardner. It houses a large collection of Indian artifacts and fossils. Near the home is a 2,000-year-old Cypress tree known as a landmark to early Choctaws traveling the Trail of Tears.
Forest Heritage Center
Beavers Bend State Park entrance
8 to 5 pm
Museum-in-the-round and features unique displays and large dioramas that tell the story of prehistoric forests, Caddo Indians, paper-making in the South, 1940s lumbering and forest appreciation.
Heavener Runestone Park
18365 Runestone Rd Heavener, OK 74937 Phone: 918-653-2241
8 to dusk
http://edgecast.data.travelok.com/okdataengine/appmedia/documents/2/2046/Heavener-RuneStone.pdf
http://en.wikipedia.org/wiki/Heavener_Runestone
http://www.sunnyway.com/runes/americanstones.html
http://www.poteauchamber.com/Portals/0/PoteauMap.pdf
Red River Museum – Idabel
812 E. Lincoln Road at BP 70/US 259, Idabel, Oklahoma
TUE – SAT 10–5 and SUN 1–5
http://www.museumoftheredriver.org/
Broken Bow Area Eating
http://www.beavers-bend.com/restaurants.htm
Shady Oaks
Hochatown Junction Hwy  580-494-6366
7 am-9 pm
http://www.beavers-bend.com/shadyoaks.htm
Abendigo's Grill & Patio
259 N Stephens Gap Rd at Hwy 259, Broken Bow, OK 74728
4 to 9 pm
Dancing Rabbit Internet Coffee House
across from the Beavers Bend State Park entrance 580-494-6321
http://www.hochatownrvpark.com/coffee.html