Dec. 3, 2020
With the development of the Trinity River Paddling Trail and its recent inclusion in the National Park Service as a National Recreation Trail, the kayak and canoe community in North Texas is 10,000 strong and growing. Some get on the water every week. For others, it's occasional. For half of them, it's about the fishing.
Join on in! Get away from it all by taking a float trip down the Trinity or one of its forks: Clear, West and Elm. Whatever type of nature experience you're looking for, the Trinity provides. The Trinity Coalition's interactive Trinity River Paddling Trail launch sites map  makes it easy to decide where to float.
As long as care is taken and masks are worn while interacting, loading and launching in a group, paddling itself is naturally socially distanced as oars keep boats six feet apart.
BEFORE YOU GO
Plenty of people have gotten excited about river paddling, rented a kayak or canoe, hit the river and found themselves in a heap of trouble. Perhaps they didn't check the current first and ended up being swept miles downstream, or worse, over a dam. Or they underestimated the time it took to paddle and returned many hours later, exhausted and struggling through the darkness to disembark.
Check River Speed. Urban rivers can have widely variable conditions from mile to mile. Rains and releases from reservoirs and water-treatment plants can raise river levels and increase velocity (measured in cubic feet per second, called CFS). Consider that storms upstream can raise river levels downstream, even if it did not rain where you plan to paddle. Uptake of water for municipal water treatment plants and commercial use can lower levels.
Always first study the information at Trinity Coalition's interactive Trinity River Paddling Trail launch sites map and click the river gauge links. A safe CFS depends entirely on the conditions of that river stretch. A low CFS might be turbulent in one area and languid in another.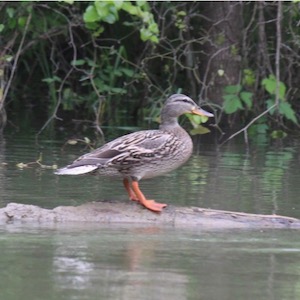 Check Water Levels. At the Coalition's water levels page, color-coded gauges make determining river-current safety easy. Beginning paddlers should only go when the levels are medium and below.
Check the Map. There is a goldmine of information at the Trinity River Paddling Trail main page. Scroll down to Maps for an overview graphic and detailed maps of individual segments including distances, launch site amenities and requirements, and GPS coordinates of launch sites.
Practice. Knowing some basic strokes and float techniques before getting on the water will save you a lot of energy and possibly prevent a dunking. Best is hands-on instruction, often available from outfitters or equipment retailers. Posture and hand placement on paddles is important and difficult to teach online. For top instruction, seek out American Canoe Association certified teachers.
If that's not possible, spend some time on YouTube and Vimeo checking out the many paddle-instruction videos. American Canoe Association offers a good collection of educational offerings.
Learn from a Pro. Unless you are well versed in paddling, it's safest to explore a river first with experienced professionals familiar with the river's habits and hazards. A few recommended float leaders and boat outfitters include:
• Adventures Unlimited Paddling
These nature centers offer group paddle events and have float trails entirely within their boundaries:
• Fort Worth Nature Center and Refuge
• Lewisville Lake Environmental Learning Area
More are listed on the Trinity River Paddling Trail main page.
Many of these are wrapping up their float activities for the season, so inquire quickly.
TOUR DE FORKS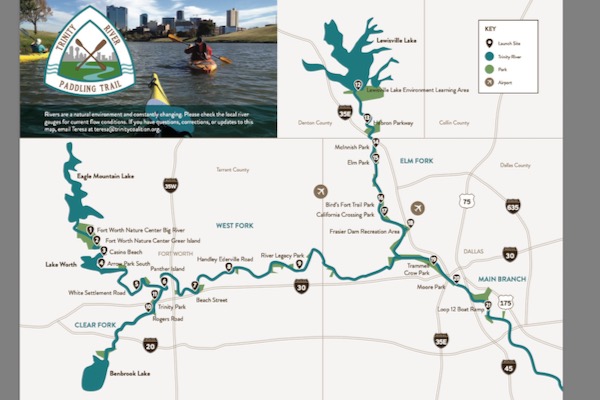 By paddling a variety of TRPT segments, you'll get to know the Trinity intimately. The Clear Fork is primarily in southwest Tarrant County and merges with the West Fork near downtown Fort Worth. The West Fork connects Tarrant and Dallas counties, and the Elm Fork links Denton to Dallas. When the West and Elm forks merge northwest of downtown Dallas, it creates the Trinity main stem. Not yet amenable to most paddlers, the East Fork joins the Trinity after it departs southeast Dallas County.
Where do you start?
A few tips on how to select a segment from over 130 river miles of TRPT from the Trinity Coalition's interactive Trinity River Paddling Trail launch sites map:
• A typical paddle-trip length is three hours on the water, covering four to six miles.
• Paddling downstream from one launch site to another can be a fun adventure since you're working with the current. But return vehicles must be left at the trail end while taking into consideration Covid-19 social distancing needs.
• Many segments have a modest current and can be done round-trip, some all of the time and
others only under the right conditions. Called a "park and paddle," these are noted in the list below.
• Dams can harbor dangers for boaters (stay clear!) and may require portages that range from long and challenging to short and easy
•Take note of the launch site specifics. Sometimes the distance from unloading to launch site is significant, or the surface is too rough to drag a boat on, making a small set of wheels called a kayak cart advisable.
Below is a description of each of the Trinity Forks and the Main Stem.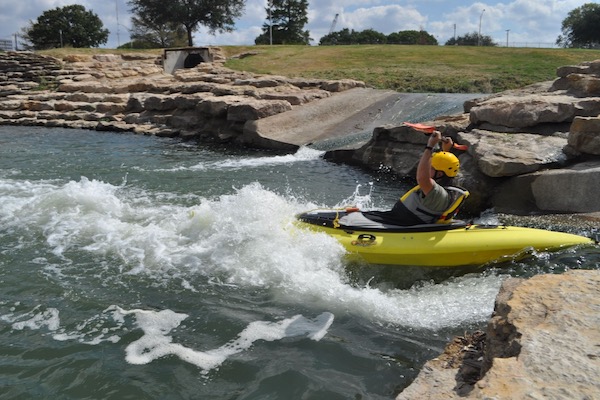 Clear Fork in Fort Worth: Rocky Grace
Low-head dams create quiet water sections in the Clear Fork's paddle-friendly segment from the Fort Worth Zoo to Panther Island Pavilion. Some dams have chutes that allow floaters to pass through with a minor whitewater thrill. The Clear is marvelous for Full Moon floating and a comfortable river for newbies.
Popular Trinity River Paddling Trail launch sites and paddle segments: 
•    Panther Island Pavilion upstream to Trinity Park or the reverse downstream or done as a roundtrip
West Fork from Fort Worth: Connecting the Metroplex
The West is the Trinity's longest fork at 145 miles. It traverses the area's three primary ecoregions- Fort Worth Prairie, Eastern Cross Timbers and Blackland Prairie – and multiple layers and ages of bedrock. The Fort Worth Nature Center and Refuge is home to two Trinity River Paddling Trail launch points.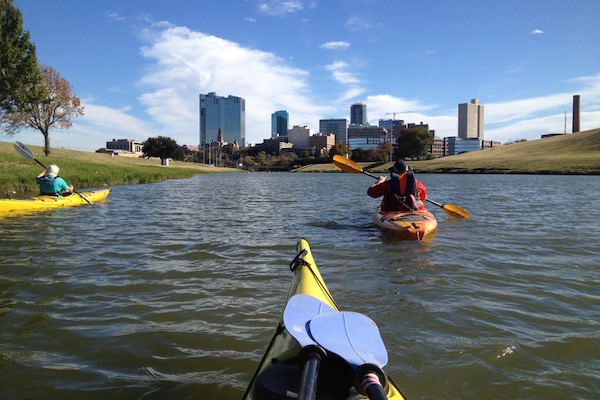 The section from the tip of Lake Worth to the Eagle Mountain Lake dam is as primeval as it gets, and the loop trail through part of Lake Worth is an absolute beauty. The West Fork through downtown Fort Worth is rather ho-hum and has a series of dams that thwart paddling, but regains some wild in the west part of the city.
In the Mid-Cities, some unaltered sections feel fantastically remote and floaters enjoy twisty bends, small riffles, and sandbars. The river becomes increasingly channelized as it nears its confluence with the Elm Fork, though retains a natural look.
Popular Trinity River Paddling Trail launch sites and paddle segments: 
• Eagle Mountain Lake downstream to Fort Worth Nature Center and Refuge or the reverse upstream or done as a roundtrip
• Lake Worth at Fort Worth Nature Center and Refuge
• White Settlement Trailhead Park downstream to Panther Island Pavilion or the reverse upstream or done as a roundtrip (a fishing favorite)
• Beach Street near Gateway Park as a roundtrip doing a mile or so upstream and then return
• Beach Street near Gateway Park downstream to Handley Ederville Dam (one small portage)
• Handley Ederville Dam downstream to River Legacy Parks
Elm Fork: Core of the Trinity
Paddlers appreciate the Elm Fork south of Lewisville Lake for its generous current and width in some favorite sections. The Trinity River Paddling Trail runs an epic 37 miles in nine segments on the Elm from Lewisville to downtown Dallas. It traverses from meanders through bottomland forest to a channel through mowed and manicured urban green space. The upper Elm is home to some of North Texas's wildest parks and preserves.
The river between the Lewisville Lake headwaters and Lake Ray Roberts dam is open for paddling, but is not part of the Trinity River Paddling Trail. Contact Ray Roberts State Park for conditions before paddling. Although one mega log jam in that area was cleared, there is another at Clear Creek. The dam in Carrollton above Sandy Lake Road is best avoided, as is the natural gas pipeline and railroad trestle near Belt Line Road due to fallen log accumulation. The dam at Frasier Dam Recreation Area is usually easy to portage. Downstream of Frasier Dam, the water volume can be too slight for padding. As it draws close to downtown, the Elm becomes thoroughly channelized, including its confluence with the West Fork, though the greenspace is pleasant.
Popular TRPT launch sites and paddle segments: 
• Lewisville Lake Environmental Learning Area downstream to Trinity Fork Park (Hebron Parkway; not yet open) or continue to McInnish Park (north of Belt Line)
• Trinity Fork Park (Hebron Parkway) downstream to McInnish Park (north of Belt Line)
• McInnish Park (north of Belt Line) upstream to Denton Creek or I-35E as a roundtrip
• Elm Park to California Crossing Park
• California Crossing Park downstream to Frasier Dam Recreation Area
• Frasier Dam Recreation Area projects a mile or so upstream and then return as a roundtrip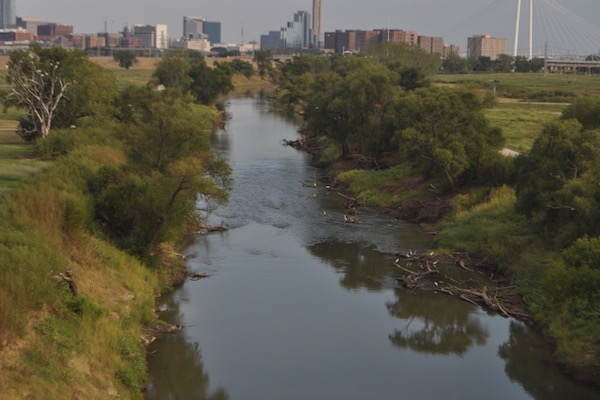 Main Stem in Dallas: Urban to Wilderness
The Elm and West Fork merge northwest of downtown Dallas to form the much larger Trinity main stem. Channelized and squeezed between 30-foot levees, it starts very urban with skyscraper vistas of an expansive mowed greenspace with scattered trees. South of downtown, it spreads into the Great Trinity Forest, the nation's largest urban bottomland hardwood forest. There the river regains its wildness and features stunning heavily wooded stretches with terrific wildlife watching opportunities. The remains of abandoned lock and dam systems at McCommas Bluff and downstream pose dangers, making paddling south of Loop 12 not recommended unless very experienced.
Popular TRPT launch sites and paddle segments: 
• Trammel Crow Park (Sylvan Ave. bridge) downstream to Santa Fe Trestle Trail (Moore Park on TRPT map) or continue to Loop 12 (near Little Lemmon Lake)
• Santa Fe Trestle Trail (Moore Park on TRPT map) downstream to Loop 12 (near Little Lemmon Lake)
PADDLE TIPS
Don't Go It Alone. Never paddle by yourself unless you are very experienced in the craft. Always tell someone where you are going on the water and when you plan to return. Remember to call them when you get off the water.
Wear A Life Jacket. A personal flotation device, also known as a life jacket, is a must on any float trip. The same goes for a 360-degree visible white stern light, required by law if boating at night. Colored port and starboard navigation lights are recommended for safety. All are usually included with rentals and guided trips.
Enjoy The View. It takes an average of 30 minutes to paddle a mile, more if paddling upstream against a current or wind. Include time to stop occasionally and enjoy the scenery. Add additional time to unload boats and get them into the water and vice versa.
Know Your Route. Get acquainted with your river route online first before paddling. Read everything about the launch site on Trinity Coalition's interactive Trinity River Paddling Trail launch sites map and click the river gauge link. Also look for wayfinder signs created by the Coalition being installed at all launch sites.
Familiarize yourself with your take-out point, if different from your put in, before you launch. Mark the take-out site ahead of time on your GPS or Google maps and monitor during your float. They can be easy to miss, especially in dim light.
Use GPS. Monitor your progress via GPS or Google maps. Some creek-river confluences are deceptively wide, making it easy to go the wrong way.
Prepare To Get Wet. You will get a bit wet! Most launch sites on the Trinity River Paddling Trail do not have a dock, so wading into the river is required to launch and disembark a canoe or kayak. Wear appropriate shoes that attach firmly to the feet. Leave a towel or a change of clothes in the car.
Practice Good Hygiene. Most urban rivers, streams, and bodies of water have some level of E.Coli bacteria. Never ingest the water and always shower after exposure. Be cautious with open cuts or sores, especially on hands and feet. Stopping mid-float for eats? Clean your hands first!
Keep It Dry. Bring a waterproof bag you can tie to the boat for snacks, gear and so on. Waterproof cases for mobile phones and cameras are best. If not, into the dry bag they go.
Bring Tissue. Bring hand wipes and wipes for eyeglasses if you wear them. Also toilet tissue as not all launch sites have bathrooms.
Prepare For Sun. It can be very sunny on the water, so wear a hat and sunglasses. Bring plenty of drinking water.
RESOURCES
The Trinity Coalition website features a list of outfitters that rent equipment and offer group trips. Or do a Google search and find on the map the outfitter closest to where you wish to explore. Which better suits you, kayak or canoe? Outfitters can help you decide, as can this handy article.
Want to go with your own group, but don't have a kayak or canoe? Fort Worth Nature Center and Refuge and Lewisville Lake Environmental Learning Area offer group floats.
If you own a boat, Meetups and Facebook groups are a great place to connect with other paddlers, including experienced ones, plus specialty floating groups (women only, sunset, etc) and those focused on a particular body of water.
• Adventures Unlimited Paddling
• Dallas Down River Club (focused on river camping)
• North Texas Kayak Adventures
• North Texas River Runners (focused on whitewater excursions)
• North Texas Whitewater Paddlers
• Trinity Coalition Paddlesports
• Trinity River Paddling Trail Association
A couple nonprofits offer group paddle trips and river cleanups:
Trinity River Paddling Trail
RELATED ARTICLES
North Texas paddling trail receives national designation
---
Stay up to date on everything green in North Texas, including the latest news and events! Sign up for the weekly Green Source DFW Newsletter! Follow us on Facebook and Twitter. Also check out our new podcast The Texas Green Report, available on your favorite podcast app.