Itchy Talks by Amy Martin: Making Poison Oak and Ivy Fun
What results when you combine the topic of poison oak and ivy with a journalist who has 20 years experience in public speaking? Great talks that are super informative while being very upbeat and funny. All drawn from the book Itchy Business: How to Treat the Poison Ivy and Poison Oak Rash, Prevent Exposure and Eradicate the Plant. Complete details at Itchy.Biz. Or buy it now at Amazon.
An estimated 50 million people endure the poison oak and ivy rash each year. It's a topic of great interest! A talk by Amy Martin helps listeners reduce rash suffering. The Q&A that follows is often emotionally cathartic as rash victims share stories ranging from funny to horrifying.  Itchy Business talks are 20 minutes long followed by a 5 to 10 minute Q&A. Shorter and longer talks are available, as well as in-depth classes.
Topics include:
BE A POISON IVY NINJA AND MASTER THE RASH        
It's not a poison to be neutralized, but an urushiol allergy to be managed. Outsmarting the rash: Essential attitude shifts to being a poison oak and ivy ninja. Mob mentality: How allergic overreaction creates the rash. The 3 Cs: Use of Calming to treat underlying inflammation. Cooling to tame fiery rash reactions. Reducing blister weeping through Constricting. How conventional treatments harm the skin and extend misery.
DEFENDING YOURSELF AGAINST POISON OAK & IVY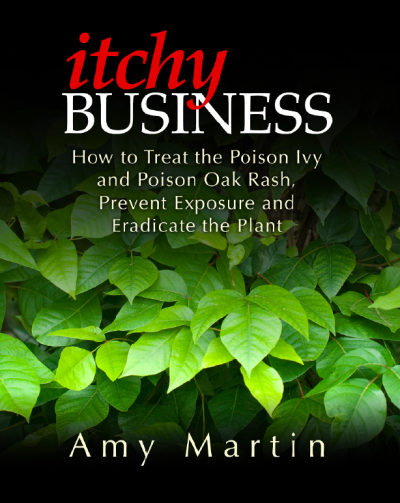 Going beyond "leaves of three, let them be" to recognize the plant in all seasons and regions. Anticipating where it will grow. Barrier lotions that actually work. Smart attire and personal habits to prevent the contact and spread of urushiol. How to get urushiol off your skin and everything else. Weird and tragic ways we spread urushiol around.
POISON OAK & IVY FOR PLANT LOVERS       
The Toxicodendron genus and its special hatred for humans. How an ancient import from China found its happy place in the U.S. The four poison oak and ivy species and where they grow. European fascination with poison ivy. Toxicodendron cousins: tropical trees that fume urushiol and Japanese lacquer trees whose resin is refined into toxic black lacquer. The itchy Cashew family: why mangos, cashews, and pistachios bother the super sensitive.
PRACTICE SAFE SCRATCH         
The cost of conventional scratching: Infection. The science of itch and how urushiol itch is different from others. Scratching techniques that help the rash and don't hurt the skin. Using gentle acids and alkalines, heat and cold, to safely scratch. How people do the hot water release all wrong. The perfect anti-itch bath and other ways oatmeal is your friend. How not to be your itch's bitch: Mentally mastering the urge.
SEVEN ESSENTIAL PRODUCTS FOR POISON OAK & IVY RASH         
Never enter itch territory without this essential protection product. Two post-contact cleaners you must have. The essential all-natural, herbal rash-relief product that's available in almost every drugstore. A traditional laxative that happens to soothe the rash. A saline rinse that cleans rash sores while numbing the itch. The delicate yellow flower that tames epic rashes, even poison oak and ivy.
STRANGE FACTS AND TERRIBLE TALES     
Self-mummification through urushiol and desensitizing attempts gone horribly wrong. Biological weapons potential of urushiol. The perils of poison oak art shows and lacquer made of urushiol. Native Americans, masters of poison oak and ivy… not. The song "Poison Ivy" as a metaphor for STDs and why the comic character Poison Ivy is mis-named. Weirdest ways to be exposed to urushiol.
To arrange one or more Itchy Business talks or classes, contact Amy Martin. Further information on the book at Itchy.Biz and at Amazon.