Hiking crew: Dianne Frossard, Amy Martin, Scooter Smith
Photos: Amy Martin.
A small group tackled the Trinity Forest Trail (TFT) southern section on a partly cloudy day that was surprisingly warm. While city materials show a connector from Trinity River Audubon Center (TRAC) trails to the TFT, no such trail exists. A wire fence between black metal posts separates the two. There is only a dirt path to a place in the fence where jerks keep cutting the wires.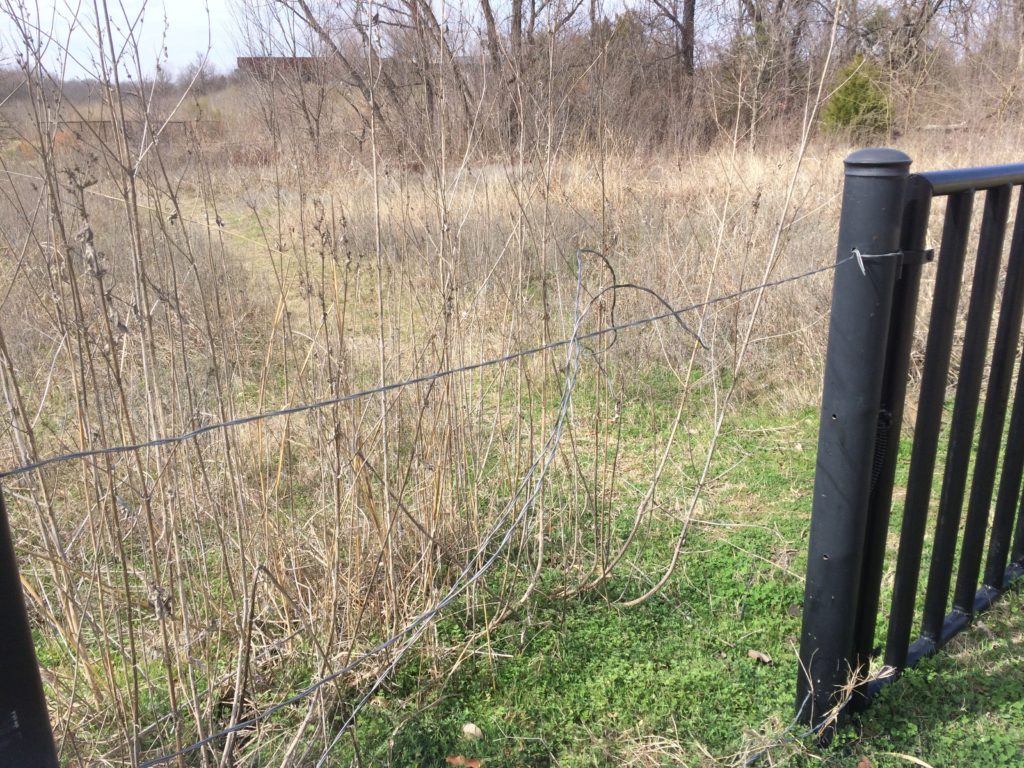 But there is a nice, well-lit parking lot outside of the TRAC gates and we take off from there. The trail skirts the TRAC ponds on one side (it's very interesting to see them from a different perspective) and the landfill-ish remediation area from when the area was an illegal dump of two million cubic yards of trash (profiled in the short video Out of Deepwood).
Just as we are leaving TRAC boundaries is the remains of the tallest ragweed I've ever seen — over 15 feet in some places. Dianne hears animal noises in dim forest and we spy wild hog dirt tracks along the trail laid after the rain ended just two hours before. Lots of pig dig damage, too.
Plentiful birdsong. Truly, it was constant. Significant flocks of cardinals and robins, scatted phoebes and swifts, and ever-present sparrows. Frequent hawk companions, including one enjoying a meal just 20 yards away.
The trail curves and toward the Trinity River and a fascinating dirt trail goes straight into McCommas Bluff Preserve. See Sandifer entry on this, below, from a few years back. If Elam Creek is still crossable, this trail will go on the Freaky Feet list; we'll check it out in the next couple of weeks.
Gray metal fancy fencing along a ramp leads to brown metal beam bridge over the river and is flanked by attempts at shade structures with rock benches. Best view of the Trinity ever, so close and right over it. It wasn't very trashy. Lovely, really.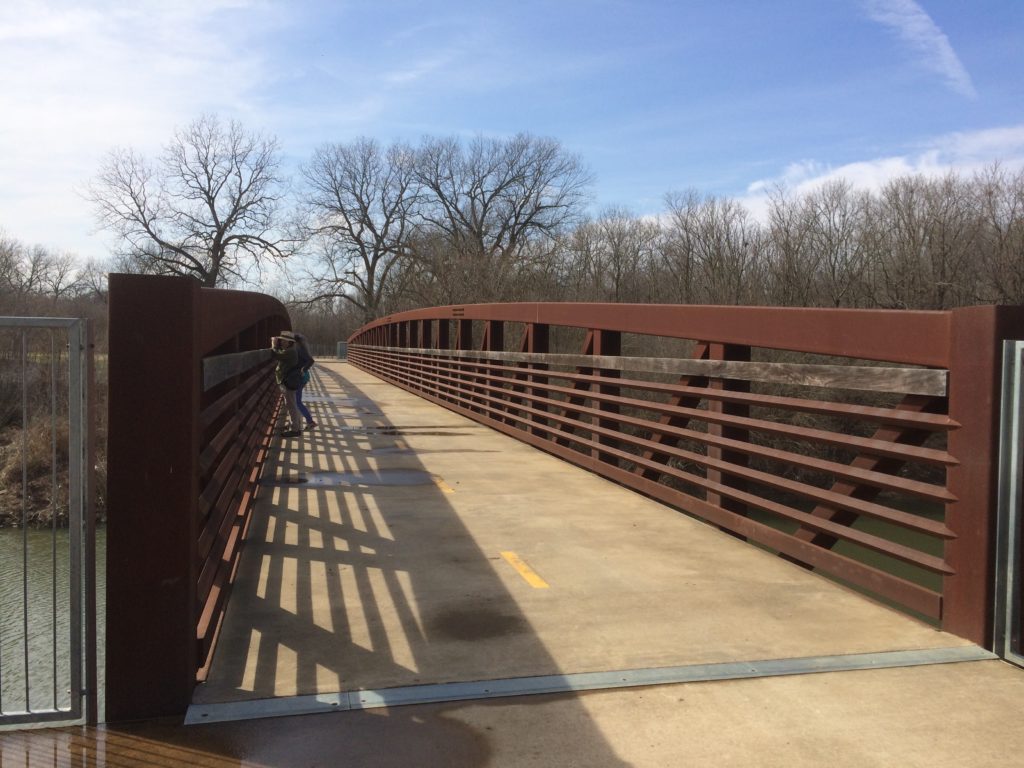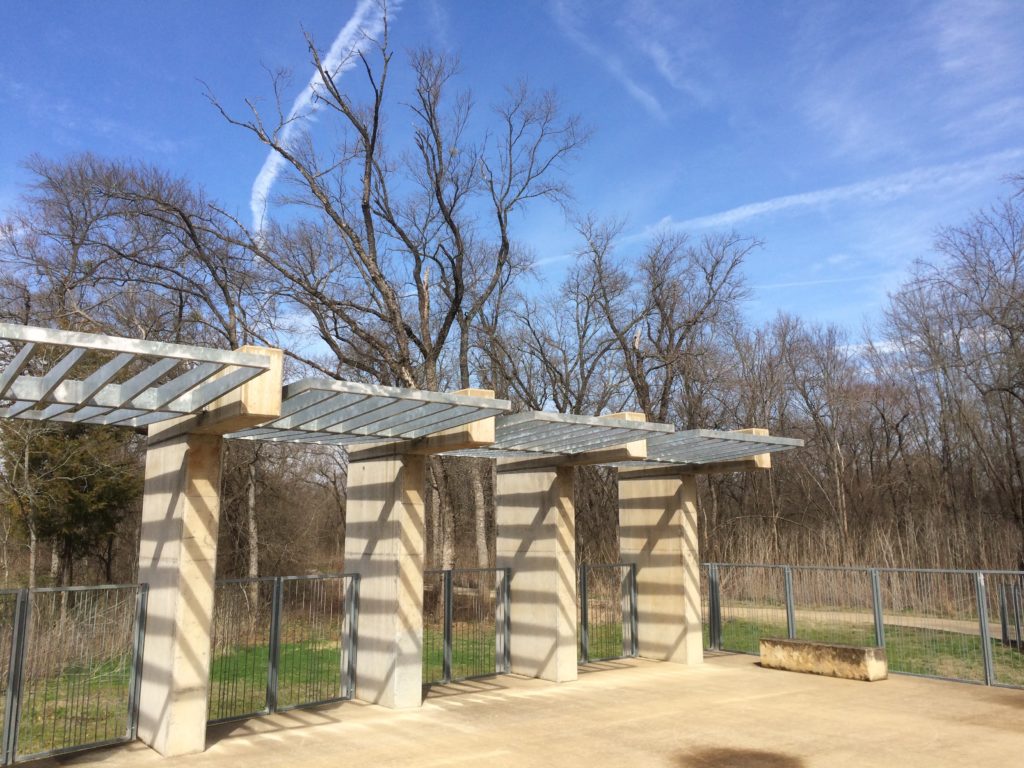 Trail continues through bottomland forest with trees topping three stories and 150 years of age. Not just occasionally, but lots of them! Slightly thick understory, but at least it isn't privet. And so much poison ivy on the trees.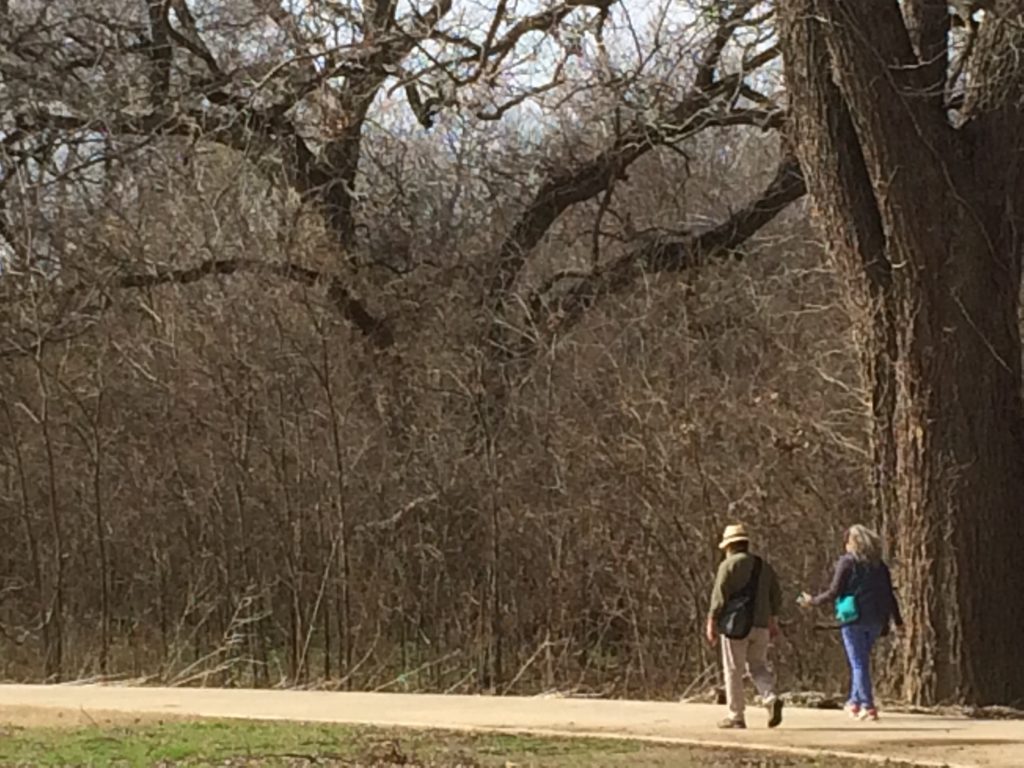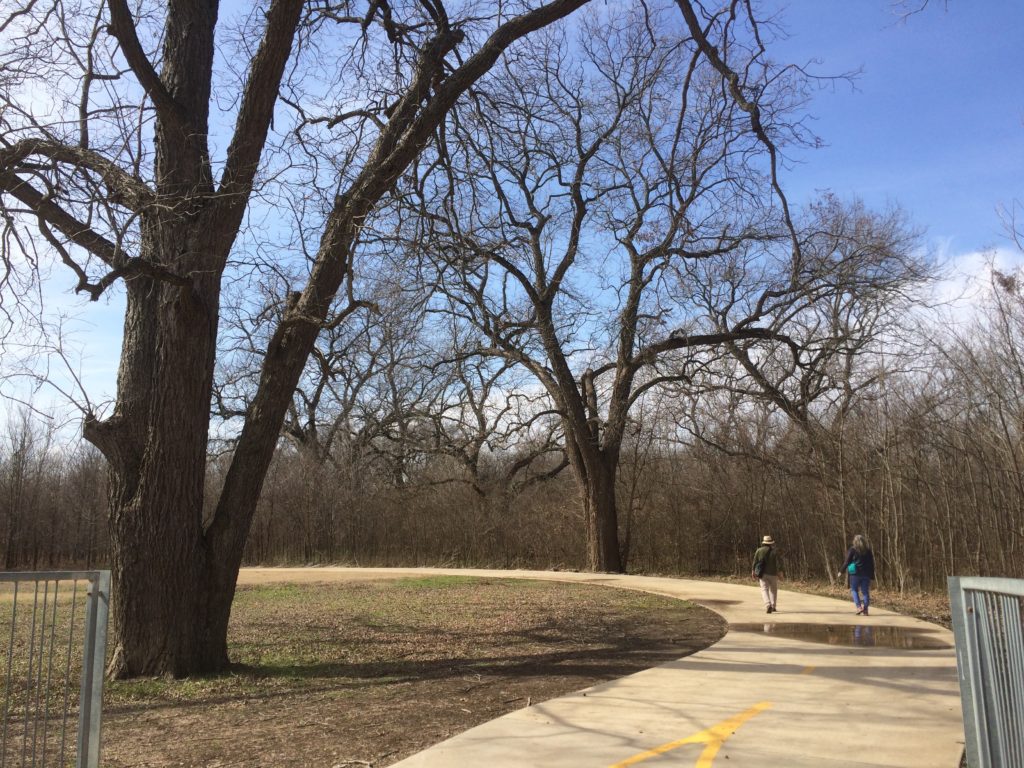 As it pulls out of the lowlands, it's nice to amble along with the Trinity just 30 yards away, albeit down banks equally as deep. But this part of the trail does suffer from sameness and the concrete grows weary on the feet. We turn around before hitting Joppa and head back.
TFT is definitely best for bikes, but we pass only a pair of speed racers, plus a cute cute cute little girl testing out training wheels with her dad.
Joppa Preserve
We decide to see Joppa Preserve from the west side close US 175. Access is off TX 310, also known as S Central Expy, which parallels US 175 for a while. We turn on River Oaks (look for WW Roland Trucking), a narrow road under construction, and go 3/10 of a mile.
On the other side of the railroad track is the parking lot for Joppa Preserve. The lack of fishermen vehicles lets us know the lakes are dry, so we don't walk the TFT there. On weekends when it's busy, this is probably an OK place to access the Joppa to Texas Horse Ranch section of the TFT, but TRAC would be better.
We go south to Simpson Stuart and take a left (it has a traffic light). The road dead-ends at some pylons, but the middle one is gone. Fishing bubbas must have had a fun night yanking it out! Vehicles are parked 100 yards down at the next set of pylons, which must be harder to remove. Somewhere down there is a connection to the TFT, but we decline.
Instead, we loop back and turn on Locust Street prior to the first pylons. This is the City of Dallas Eco Park building where waste reduction and recycling administrative operations are located. There is a TFT trailhead with good safe parking and clear sightlines.
LINKS
<> Trinity River Audubon Center<>
http://trinityriver.audubon.org/
<> Trinity Forest Trail <>
Main site: http://www.trinityrivercorridor.com/recreation/trinity-trails-phase-1-and-2
Alt site: Dallas Trinity Trails 1 (Sandifer): http://dallastrinitytrails.blogspot.com/2011/03/mccommas-bluff-preserve-and-trails.html
Alt site: Dallas Trinity Trails 2 (Sandifer): http://dallastrinitytrails.blogspot.com/2011/03/trinity-river-spine-trail.html
City of Dallas overall trail map: https://www.dallasparks.org/DocumentCenter/Home/View/35
<> Joppa Preserve <>
city: https://www.dallasparks.org/facilities/facility/details/joppapreserve-543
county: https://www.dallascounty.org/departments/plandev/openspaces/locations/08-joppa.php
<> McCommas Bluff Preserve <>
city: https://www.dallasparks.org/Facilities/Facility/Details/McCommas-Bluff-582
county: https://www.dallascounty.org/departments/plandev/openspaces/locations/09-mccommas-bluff.php
Dallas Trinity Trails (Sandifer): http://dallastrinitytrails.blogspot.com/2011/03/mccommas-bluff-preserve-and-trails.html