Photo: Courtesy Jorge Dominguez, Dominguez Family Dog Act
The Lone Star Circus delights with its annual show at Dallas Children's Theater, this one called Forever!
by Amy Martin
published Sunday, December 30, 2018
Dallas — I want to grow up to be a trick roper. For all the years I've been attending the Lone Star Circus' annual holiday show at Rosewood Center for Family Arts, I can't recall a cirque artist who wielded a lasso and bullwhip.
A.J. Silver mesmerized with a lasso at the end of a very long white lariat rope that transformed from small fast circles to a large loop that galloped like a horse. The lasso went overhead and then up and down his body like a Hula-Hoop. It slowly widened from tight around his body to one over 15-yards wide, requiring extraordinary strength and control.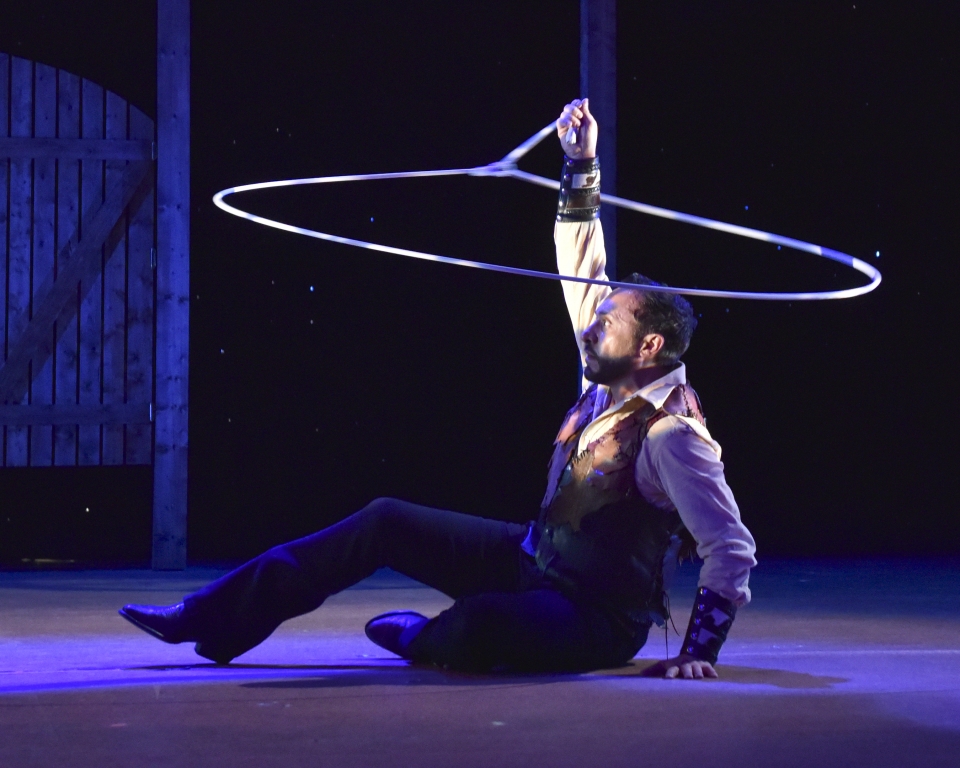 Silver prowled the stage as he worked the lasso, once laying down and twirling the rope overhead and rising again without missing a beat. He lassoed sideways and jumped back and through it like adult double dutch. Lights dimmed so he could work a glow-in-the-dark lasso.
Just as compelling was the bullwhip artistry through the air at incredible speed, sometimes two whips at once. He swirled the braided leather thong rapidly around him just inches away from his body. The bullwhips end in exceptionally loud leatherwork called crackers that can move at 30 times the speed of the whip — so loud and fast I swear there were sparks.
Further highlights:
The Dominguez Family Dog Act was fun because the ten poodles had so much fun. Aside from many tricks — ladder climbing, jump roping, cart pushing — they can fly. Seriously.
Latin jugglers are a delight because smooth dance moves are a part of the act. But how many can juggle seven ping-pong balls — using their mouth? Amauri Da Silva can. His fantastically creative set went from traditional club juggling (just three, but sonic fast) to keeping a half-dozen fedoras afloat by flinging while running in a circle. Nimble and imaginative!
Some trapeze artists strike terrific poses suspended in the air. Kelli Brown-Ramazini dances, her trapeze bar providing a stable platform for difficult artistic moves always done with a smile.
Asif Mor continues to deepen his Cyr wheel act. Suspended within a large hoop, he cavorted across the stage, sometimes spinning nearly horizontal to the floor, then miraculously rolling himself upright again.
Show also included Brando Anastasini on the tightwire, Gitana Doyle and Emily Fassio on duo lyra (aerial hoop), Liam Shalom on corde lisse (hanging rope), and Riz Ilyas and his tiny pony doing dressage.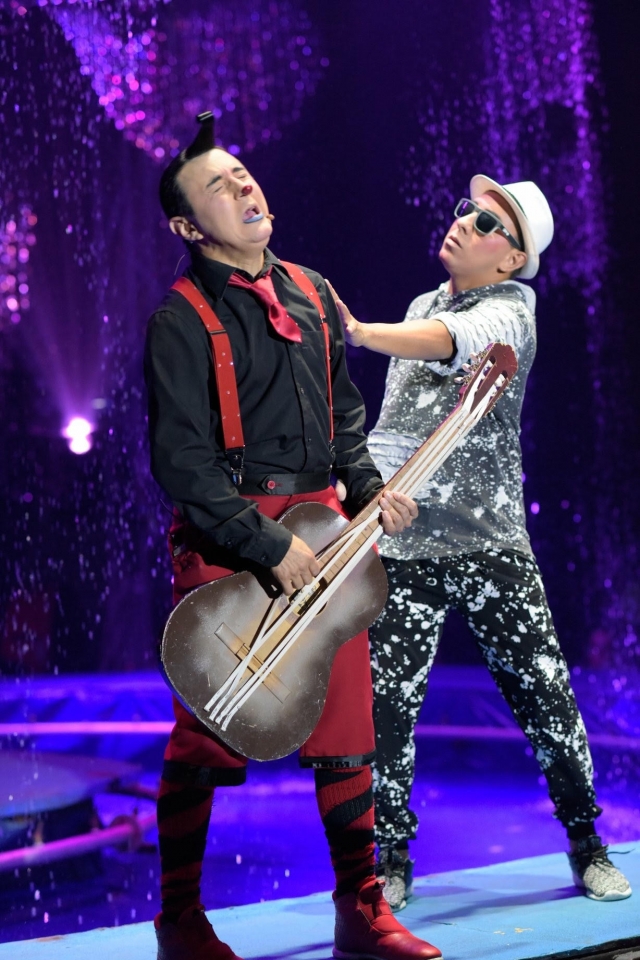 Tyron McFarlan, 34th ringmaster of Ringling Bros. Barnum & Bailey Circus and a ringmaster for New York's Big Apple Circus, provided a commanding presence that kept the audience's attention. He concluded the show with a lovely circus-tribute song. Periodically he engaged with banter about the circus with an earnest character played by local actor Matt Holmes.
Driving the show was the insane affability of the Acero Brothers a clown and acrobatics act from South America. Their antics made the segues smooth. Decked out in red shorts, vest, knee socks, and shoes, with an Ed Brimley hairstyle and red dot for a nose, Alex was the one you had to watch. With his stocky petite body, volcanic energy, and fearlessness with the audience, he was a force like Robin Williams and a darn good trampoline artist, too. BiBi excelled with the faux wrestling match comprised of a half-dozen "volunteers," helped by an exceedingly game audience participant.
View original at http://www.theaterjones.com/ntx/reviews/20181230150601/2018-12-30/Dallas-Childrens-Theater-and-Lone-Star-Circus/Forever