Photo: Robert Hart
Kris Noteboom has some promising moments and material for his solo performance debut at the Dallas Solo Fest, but could still work out the kinks and nervousness.
by Amy Martin
published Saturday, June 6, 2015
Dallas — It's a toss-up as to what was more entertaining: Kris Noteboom's full-length solo performance debut in …And Then I Woke Up, or his ongoing meltdown on social media in the weeks before. He arrived on stage at the Margo Jones Theatre in Fair Park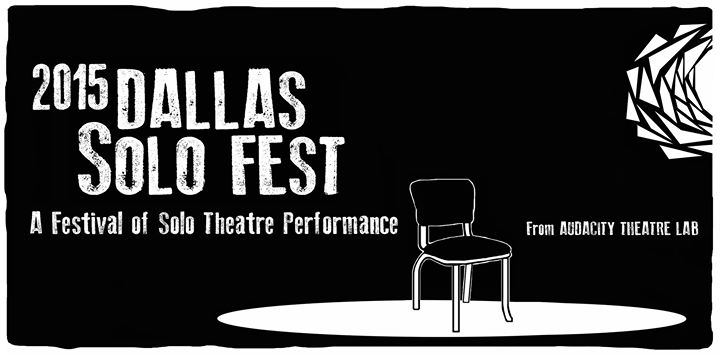 for Dallas Solo Fest opening night all rushed and frazzled. Maybe the Red Bull before the show was not the best idea. Noteboom fairly vibrated beneath the sheets on the bed, which, along with a nightstand with lamp and water, is the simple stage decor. Or perhaps he was quaking in fear.

Then again, it added to the mise en scène of a one-man play about fear, social anxiety and self-delusion. Woke Up opens with Noteboom screaming himself out of bed. Certainly got the audience's attention with a big laugh. Loud and boisterous suits him. Dense, murmured sections of exposition, not so much.

An intellectually ambitious show, Woke Up weaves the dreams Noteboom has while sleeping, rooted in reality and a whole lot of anxiety, and his waking dreams whose fantasy feeds him. They often blur. Yet for a show about dreams, it's too firmly set in reality. It plays out on a brightly lit set that doesn't evoke his subthemes of the psyche's shadowy places. But let his experience teach you (and yes alcohol was involved): If you have sex dreams about a friend, even a flirtatious one, do not share them!

Noteboom's a self-professed smart ass, a life-long affliction that suits him very well as a theater critic (he has been a TheaterJones critic for five years), less so as a partner. It cast him as a cool kid when his weight gain got him demoted out of the popular clique in high school. Woke Up is full of enough zingers, witty phrases, and bon mots to make a dependable hour of laughs. But Noteboom was so nervous—understandable, it was his debut as an actor holding down a solo show—the wit got lost in the torrent of words. A few strategically placed silences would help immensely.
Woke Up starts out as if a piece on the brain and perception as told by a brainiac, with funny bits relating personal childhood milestones to Freud's psychosexual theories of childhood's oral and anal phases (do they ever leave us?). He dangled a tantalizing bit on how babies dream even in the womb, and how fear is a learned and intensely physical thing. The ricochet is extreme, between the intellectual MENSA guy ever in pursuit of the next university degree, and the emotional guy with serious social anxiety overcoming a self-made mire of mistakes to find his raison d'etre, namely performance art.
There's a whole lot of stuff packed into Woke Up: Being the WASPyish of all the WASPs, the mean streets of San Francisco, liberal politics in Texas, business school and the family business, being a film buff and the pain of film sequels, even an elementary school talent audition. It's hard to keep up. A sort of continuing thread is horror movies as a way of dealing with fear, using the Paranomal Activity series and The Shining. Kind of rough following all that if you didn't see or don't remember them. But overall, being entertained by Noteboom and his demon-haunted dreams was a fun ride.
Original post at: http://www.theaterjones.com/ntx/dallassolofest2015/20150607093836/2015-06-06/DSF-Review-And-Then-I-Woke-Up
» Kris Noteboom's …And Then I Woke Up has one more performance at Dallas Solo Fest:
» Noteboom is also performing the show June 12-20 at Hollywood Fringe, in July at Capital Fringe in Washington, D.C., and in September at Chicago Fringe Festival.
» Read our Q&A with Kris Noteboom here
The 2015 Dallas Solo Fest features eight solo performances spread over two weekends. To see complete DSF schedule, go here. There will also be several workshops, which you can read more about here.
And you can follow our coverage of the 2015 Dallas Solo Fest in our special section, here.