Bringing Down the House
At Fun House Theatre and Film, Matt Lyle's House Party, Holiday Edition, is a showcase of smart and hysterical sketch comedy and improv.
by Amy Martin
published Friday, December 19, 2014
Plano — Is Shakespeare better with farts?
This question is pondered in the Matt Lyle's House Party welcome speech—essentially Lyle's manifesto on the humor he plans to wrest from this sparkling troupe of comic Fun House Theatre under-18 actors. Piper Cunningham, the youngest performer, and Jaxon Beeson explain that instead of focusing on flatulence, they will instead explore phenomena they've gleaned from studying adults in the wild. Sort of Kids Say the Funniest Things with a twist. Although, says Cunningham of inappropriate farting, "We love the concept," a refined comment which is really funny coming from a seven-year-old.
The Black Box Theater of Plano's Children's Theater on Thursday night was completely packed, mostly with parents and friends of performers, sort of school recital atmosphere. But unlike the polite applause and chuckles of that situation, the laughter was gut-busting and the smiles broad. You can't fake that. It is well earned. The show continues through Sunday afternoon. Reservations suggested.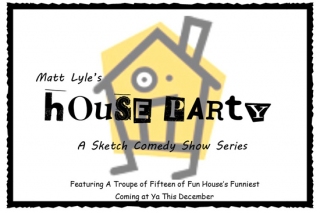 In a brisk 50 minutes, more than a dozen teenage and pre-teen performers explore the foibles of adults, mostly parents, as penned by playwright Matt Lyle of Hello Human Female (Audacity Theatre Lab) and Barbeque Apocalypse (Kitchen Dog Theater) fame. In an interview at rehearsal a week prior, said Lyle, "Traditionally in this situation the cast would write the whole show. They would spend a couple of months improv-ing scenes. But being our first show, we haven't had the time, so I wrote all the material."
But the House Party players are no mere mouthpieces and House Party is way beyond a gag-a-minute sketch fest. The final piece made that very clear and proves to be a perfect wrap to a show titled "Adulthood, Or How I Learned to Love Ken Burns." A New Year's Eve party scene unfurls with the full cast on stage satirically shredding the Ken Burn documentary formula in dialogue. Meanwhile, a morose Kennedy Waterman perches on a high-rise ledge poised to jump, only to discover a fellow depressive Logan Beutel contemplating the same fate. Poignant, funny and deep, the duo's acting was so real, so nuanced, that it was jaw dropping.
Among other sketches, a trio of parents at a school recital boast, argue, plead, recriminate and otherwise act more childish than the tykes on stage, even the one with his hands down his pants. In another, Mr. and Mrs. Claus are in bed, with Santa fretting about everything from logistics to Isis invading the U.S. via Mexico. Great punchline, but the sketch skims the real gem of the material—Santa's slim new bod and his obsession with CrossFit, which on its own could have been expanded into much more hilarity.
There is incredible potential in Matt Lyle's House Party. With the ace skills a Saturday Night Live ensemble would admire, the group took a complex sketch about teen love that lumbered through rehearsals and in a week polished it to a shine. Of course, having Lizzy Greene in the lead helps. The acting skills she gained during her fall season in Nickelodeon's Nicky, Ricky, Dicky & Dawn—and first honed at Fun House—are impressive.
But other House Party players are no slouches. Alex Duva's middle name is funny. Once he figures out how to be physically in the scene, rather than just verbally witty, he'll be a force. Tess Cutillo has a vulnerable yet ebullient personality that makes you want to root for her. Taylor Donnelson embodies mischief.
"Adulthood" is the best local sketch offering the area has seen in decades. A very solid, funny show unfurling at a quick pace. Staging is swift and the subtle scenery, rather than the usual empty black set of improv, enlivens the skits. Blackout bit segues were not as strong as the sketches but would have made terrific video shorts had the theater that capability.
Lyle went through full three-year Second City sketch writing program and remained in Chicago for several years in that city's extremely competitive and creative sketch and improv scene. He moved back in August so his 15-month old could enjoy quality grandparent time. For that, we are all damn lucky. Says Bren Rapp, Fun House co-founder and producer, "The idea of a sketch troupe has been in motion for four months. But bringing Matt back to work with us? We've wanted that for years!"
There is some serious simpatico going on here between players and playwright. Truly bodes well for when the young performers start participating in the sketch creation process. Fun House presents a Lyle play every year and some of the House Party players have been in each one. "I can't even put into words what Matt means to some of them," says Rapp. 
Original post at: http://www.theaterjones.com/ntx/reviews/20141219165931/2014-12-19/Fun-House-Theatre-and-Film/Matt-Lylersquos-House-Party-Holiday-Edition-Adulthood-Or-How-I-Learned-to-Love-Ken-Burns