A quick preview for Alternative Comedy Theater's 7th Annual Big Sexy Weekend of Improv
by Amy Martin
published Friday, June 26, 2015
Big Sexy Weekend of Improv returns for its seventh year, spanning two locations: Margo Jones Theater in Fair Park for most of the festival and Pocket Sandwich Theater for the late shows. A co-production of the Alternative Comedy Theater and Audacity Theatre Lab, the line-up this year includes improvisational clowns, song stylists, surreal dreamers, under-agers, and a host of troupes with very creative formats. Big Sexy runs Friday and Saturday June 26 and 27.
Troupes from the Alternative Comedy Theater are featured. The Band Wreckers weave emotional storytelling to create a one-act play. Always fast on their feet with loads of improv experience among the members, The Victims interviews an audience member on stage and then re-tells their story in a most warped way. ACT has a new duo, Tub-thumping with Kyle Bradford and Shea Smith.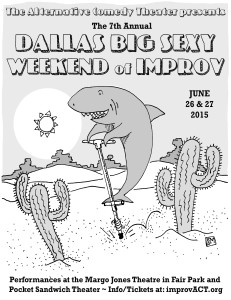 Friends of ACT are part of the brew. The Motley Players present a fast paced, short-form improv that occasionally goes long. A big favorite at Scarborough Renaissance Festival, they do monthly shows at Plano Children's/Community Theatre. Good to see them flourishing after the death of founding member Brian Graef in 2012. Former Dallasite Rory Scholl is lured each year from New York to improvise music and mayhem.
Completing the Dallas-area line-up are Unicorn Clearance, the state's (and possibly the nation's) only underage improv troupe, composed of students from Fun House Theatre and Films, ranging in ages from 7 to 16. ComedySportz Dallas, formerly known as LockedOUT Comedy, presents fast-paced short-form improv in a games format that features audience interaction throughout the set.
Big Sexy presents out-of-town guests, including Red Dirt Improv from Oklahoma with their new Game of Thrones game. Most exciting out of Austin is the clown duo Butter and their show "The Art of the Woo." Be prepared to be seduced with laughter. Mirage Machine is very Austin: strange, surreal, and (probably) stoned. iScream Sandwich is the ultra dependable house team at Austin's Institution Theater. Your Dad's Friends is a mixed bag of Austin improvisers. Out of Houston, Ghost Dinosaur's format is extremely creative and imbued with narrative storytelling, and Stephen Linings Kingbook uses a film-based approach. 
Original post at: http://www.theaterjones.com/ntx/news/20150626145359/2015-06-26/Get-Some-Big-Sexy