What They Are
Steve Martin delivers comedy, but it's really about the music in his tour with Steep Canyon Rangers and guest Edie Brickell. Her husband, Paul Simon, made a surprise appearance in Dallas.
by Amy Martin
published Sunday, August 3, 2014
An artfully constructed set of music presented with great humor and incredible virtuosity. It was all you could hope for in a concert. Steve Martin and the The Steep Canyon Rangers brought the bluegrass with a little Edie Brickell on the side to the Winspear Opera House at AT&T Performing Arts Center on Friday night. Paul Simon, Brickell's husband, made a guest appearance, garnering a standing ovation for simply walking on stage. Both offered bluegrassified versions of their hits "What I Am" and "Me and Julio Down by the Schoolyard," plus a sweet duet to "Waltz Across Texas," creating a one of a kind evening.
"I don't think of these guys as my back-up band. I think of myself as their celebrity," said Martin from the stage. The first section on the show was heavy on the jokes, proving Martin to be the best band frontman ever. He trotted out his insufferable yet likeable celebrity persona to razz the band ("Enough about you, back to me") and quips about Brickell ("We met on BluegrassMingle.com"). By one-third in, the music took reign and it was a firmly bluegrass band event.
The blend left everyone in the eclectic crowd satisfied by evening's end: late middle-aged Martin comedy fans who date back to his wild and crazy days, youngish hipster followers of Brickell, casual, countrified bluegrass enthusiasts, and even the culture cruisers who do the ATTPAC season tickets accustomed to more pop fare. Everyone went home happy.
While Martin has been playing banjo for 50 years, he's been most active the past five years. After a career of stand-up comedy, writing and acting in movies, and even playwriting, "I love what I'm doing now," said Martin. He gave a tip of the hat to Pete Seeger, who he met on Smothers Brothers Show, for affirming his passion for music before offering the banjo solo "Gentlemen Pete."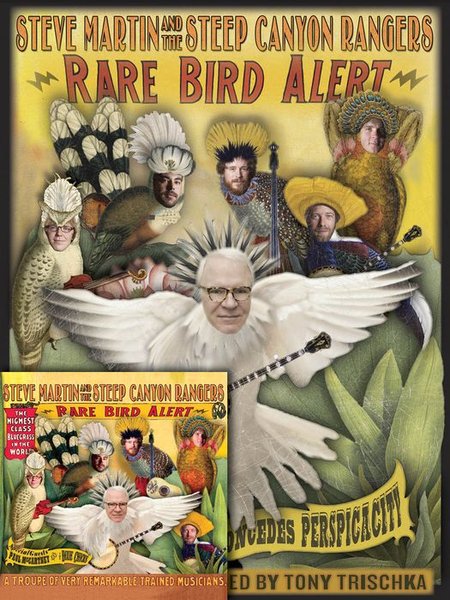 With Martin being born in Waco, it was a night of Texas glory. Dallas-born Brickell received a huge reception when she came on stage. "Really good to be home," said Brickell, adding that she missed the "friendly people, Tex-Mex and sweet tea" of the south. She hinted of her desire to have a Texas home, which provoked much eye rolling from the thoroughly New York Simon who called Dallas his "city-in-law." Brickell was raised in Oak Cliff but traced her love of bluegrass to long periods with fun-loving, gossipy grandparents and kin outside of Paris, Texas.
"Steve sends me these banjo tunes and I see pictures and stories," said Brickell. Not always what he intended, said Martin before introducing a perky number called "Yes She Did" about small town folks gossiping over a suicide. But the audience responded more to bluegrass songs with humorous Martin lyrics such as "Jubilation Day" about a break up, or what he called a "classic bluegrass murder ballad" with a feminist twist at the end.
Bluegrass is too often characterized as maniacally fast picking occasionally graced by whiny, nasal-toned vocalists. The Steep Canyon Rangers showed what an art form it could be and looked good doing it in their suits and boots. It was an evening of intricate counterpoint, overlapping melody lines, tight vocal and even banjo harmonies, all driven by propulsive musical energy. The violin provided emotional commentary to vocals in a call and response fashion, with the mandolin interjecting playfully.
All of the Steep Canyon Rangers members have serious chops. Exceptional musical virtuosity from Nicky Sanders on fiddle, who has been playing since he was five years old. In the showstopper finale of "Auden's Train," based on a piece by the poet, Sanders quoted melody lines from classics to classic rock, even if it was occasionally so high only a dog could hear. Mike Guggino, who is supernaturally talented for only playing for 15 years, made the mandolin do incredible things. Woody Platt, the band's lead guitar and vocalist, added his lovely tenor, though was underused on guitar. The band's solo number was epic, loose and free, climaxing in intense cooperative jamming. Graham Sharp's banjo harmony on "The Crow" was chill inducing. The stand-up bass, played by Charles R. Humphrey III, added a vital grounding to the high-pitched strings.
For all the night's adherence to bluegrass tradition, the song that left the audience in silent awe was Martin and Brickell's "Love Has Come For You" which won the 2013 Grammy Award for Best Roots Song. The tune opens up the bluegrass genre with fluid dynamics and an arrangement that goes well beyond the usual format of stating a theme and embellishing with solos. Thigh slapping percussion from Mike Ashworth was a nice touch.
"Thank you for coming to see a live show," added Martin before launching into a three-song encore. Nights like this remind of why live music creates memories that last a lifetime. 
Original: http://www.theaterjones.com/ntx/reviews/20140803134204/2014-08-03/ATT-Performing-Arts-Center/Steve-Martin-and-Steep-Canyon-Rangers-with-Edie-Brickell