3 Top Shade Trees for Dallas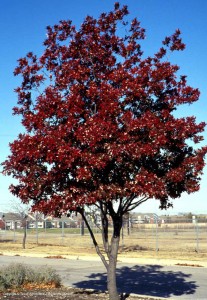 Shade Trees of Dallas
by Connemara Conservancy
A variety of plants are native to the Dallas-Fort Worth area, from tall shade trees to grasses and flowers. The physical geography of the region consists mostly of the Texas Blacklands Prairie, flanked by the Cross Timbers in the west and the East Central Texas forests in the east. The main belt of the prairie runs from southwest near Austin to northeast by the Oklahoma border. It is made up of mostly savannas and oaklands. Today, let's explore a selection from the pantheon of shade trees that dot this landscape.
Bigtooth Maple (Acer grandidentatum): a species of maple closely related to the sugar maple (Acer saccharum). It reaches heights of about 32 to 50 feet, with the diameter of the trunk measuring from about six to fourteen inches. The color of the trunk can vary from dark brown to gray, and in the North Texas area the leaves usually stay green all year. This tree has a high tolerance for heat and a medium low requirement for water, making it perfect for hot, dry Dallas summers.
Texas Red Oak/Buckley's Oak (Quercus buckleyi): a deciduous tree closely related to the Shumard Oak. Hybrids of the two are common in the Dallas area. Its height averages from 30 to 50 feet, though it can reach up to 75 feet, and its width can go up to 60 feet. The trunk is usually dark gray to black, although occasionally it can be a lighter gray. The leaves of this tree can turn orange or red when autumn comes to Dallas. Texas Red Oaks are highly tolerant of heat and have a low water requirement, so they're very drought-resistant.
Southern Magnolia/Bull Bay (Magnolia grandiflora): a widely cultivated evergreen tree with large, fragrant white flowers and glossy green leaves. It can tower up to 90 feet, though in Texas its height normally ranges from 40 to 60 feet. Its average width is about 35 feet. The wood is harvested for commercial purposes and used in furniture and home decor. Although it has a high tolerance for heat, it also has a high water requirement, so it prefers shady areas and moist soils.
Learn more about the North Texas environment.
Connemara Conservancy is a non-profit organization dedicated to protecting natural spaces in North Texas. Connemara works with land owners, as well as government and commercial entities, to conserve land. We also work to promote awareness and education initiatives on environmental issues for people in the North Texas community.
Posted by: Moonlady.com
About: Moonlady.com, formerly the home of Moonlady News, where bright minds shared ideas that moved humanity forward while honoring the Earth. Moonlady.com as the home of writer Amy Martin emerges in late January 2014.
Author :
Moonlady.com